Raise a Floppa - The Loop
Play Sound
This map/grid location appeared until Chapter 2 Season 1 and has since been updated.
Some sublocations, points and mapping might have been removed or changed. Please see Plumberton (POI) for the latest information about the map.
Warehouses (commonly referred to as Yonder Yard) was an Unnamed Landmark in Battle Royale added in Season 2, located inside the coordinate E9, north of Happy Hamlet and southwest of Shifty Shafts. It was an industrial area with empty warehouses and shipping containers. One warehouse had a club setup with stage, lights and dance platforms. In Season 7, two of the buildings were crushed by the iceberg, leaving behind a large block of ice in the area.
Points and Sublocations
Warehouses (POI) Top View
* Click on the map to view geographic sub-locations.
Other Loot Spots
The Club
Garage Warehouse
One Stack (Also in Factory in Season 1-3 and X)
Former Loot Spots
Storage Warehouse and 2 brick buildings
(Removed in v4.00 (May 1st, 2018))
Big Warehouse (with underground section)
Small Warehouse (Also in Loot Lake from Season 1-8)
(Removed in v7.00 (December 6th, 2018))
Props
Shipping containers
Trucks
Wood pallets
Map Changes
The area that would become Warehouses was a valley containing a few trees and a pile of rocks. The area would be flattened out with the addition of Warehouses.
Warehouses was added to the map.
A Vending Machine was added to the Warehouses. It is located among the shipping containers next to One Stack and the Garage Warehouse.
The Storage Warehouse was replaced with The Club and the 2 brick buildings were replaced with a parking lot.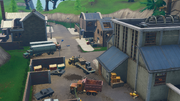 The metal containers outside One Stack have been rearranged into a chair.
The Club now has posters of DJ Yonder around and inside it.
|-\Season 7=
Two of the warehouses were crushed by the iceberg. There is now snow in the remaining area.
The two trucks next to the parking lot have been hit by parts of the iceberg, opening one up to reveal a chest inside.
A new rune has appeared in The Club
The wall behind the nightclub's sound system has collapsed, and the music has stopped playing due to the rune having crashed through the wall.
The rune is now gone and has moved to Loot Lake.
The nightclub's floor tiles are starting to turn off, and only turn back on if they're walked on.
The Slipstream station near the area was removed from the map.
A metal container outside the club has a Teknique spray and the truck near the club and a metal container inside the one stack factory have window sprays on them for Spray & Pray Missions.
The remaining warehouses and the club has been sucked into the black hole.
Trivia
Posters of DJ Yonder appeared around the Club.
A location called Apres Ski was added in Chapter 2 Season 1 is similar to the Club.
Yonder Yard was updated every season up until its removal.
It was the only unnamed location, and the only location added before Season 9, to get a Slipstream station.
The storage warehouse that was removed in Season 4 was moved to near Junk Junction and turned into a Filming Studio (POI).
The small L-Shaped warehouse is the same as the one in the Factory POI south of Dusty Depot
Gallery
Battle Royale Geography
Chapter 2 Named Locations
 

Grid Coordinates

North West
North
North East
West
Central
East
South West
South
South East