Villain Lair (POI)
This map/grid location appeared until Chapter 2 Season 1 and has since been updated.
Some sublocations, points and mapping might have been removed or changed. Please see Sweaty Sands for the latest information about the map.
Villain Lair was an Unnamed Landmark in Battle Royale added in Season 4, located inside the coordinate B4 and B5, east of Snobby Shores. It was a heavily decayed hideout that resembles a shape of a robot on the mountains on the outside with a large missile dock and security cameras. Unlike the security cameras added in Chapter 2 Season 2, the security cameras inside the lair couldn't actually detect players. Inside was a purple-themed facility with control center, rooms with servers, station wagons, medical gurneys, a sleeping quarter and an empty pool. The villain lair can also be found in Creative, before and after deteriorating.
Points and Sublocations
Villain Lair (POI) Top View
* Click on the map to view geographic sub-locations.
Outside
A Chest is located east from the wooden shack, in the top of the mountain.
Inside
There are 4 Chests inside the lair. One Chest can be found from the sleeping quarters, at the top of the bed. Another Chest is located at the bottom of the shaft that is entered from the wooden shack. In the empty pool room, one of the Chests is in the bottom of the pool. The last Chest is on the top of a medical gurney, found in the hospital/laboratory area of the lair.
Other Loot Spots
Props
Visitor Banner
Rocket
Rocket Parts
Large Computers
Hospital bed
Map Changes
Trivia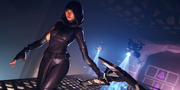 The Fate loading screen shows Fate walking through the lair holding the Fated Frame, with several "lobby drones" (the drones which appear after a player is eliminated) behind her. The presence of the "lobby drones" behind Fate in the loading screen might mean that the lair's inhabitants were killed by Fate, which would explain the lair's abandonedness and disrepair.
Battle Royale Geography
Chapter 2 Named Locations
 

Grid Coordinates

North West
North
North East
West
Central
East
South West
South
South East