Raise a Floppa - The Loop
Play Sound
This map location is inside the combination of coordinates: B6.
Sublocation, points and chest placements that can be found outside Viking Outpost (POI) might be listed under the grid coordinates of the area.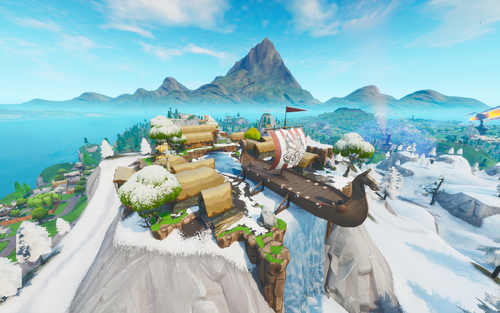 This map/grid location appeared until The End Event and has since been updated.
Some sublocations, points and mapping might have been removed or changed. Please see Holly House (POI) for the latest information about the map.
Viking Outpost nicknamed "Viking Village" was an Unnamed Landmark in Battle Royale added in Season 5, located inside the coordinate B6, east of Snobby Shores and northwest of Greasy Grove. The place was hinted through the previous mysterious anchor that spawned in the area on Season 4. In Chapter 2 Season 5, the Viking Ship re-appeared near Holly Hedges due to The Zero Point being damaged.
Points and Sublocations
Viking Outpost (POI) Top View
* Click on the map to view geographic sub-locations.
Chests
The village contains 9 Chests in total. 3 Chests are found in the attics of the three houses in the eastern-most corner in of the village, as well as 3 on the western-most side. A single Chest can be found in the east part of the attic of the longhouse, and also on the ground of the south side of the longhouse.
Other Loot Spots
Viking Ship
Viking Longhouse
Stable
Small Hut
5 Viking Houses
Props
Waterfall
Plowfield
Archery Board
Viking Ship Mast
Small Dock
Pointed Log Fence
Hanging Viking Flag
Weapon Rack
Map Changes
Trivia
Until Season 7, this was the only place on the map where snow could be found.
Interestingly during The End Event, a rocket passed through the Viking Mountain.
In the official Fortnite Monopoly, Viking Village is the name given to the Viking Outpost, as well as on the official Season 5 map, and by fans in general.
Prefabs of the Viking Outpost can be found in Creative.
Gallery
Battle Royale Geography
Chapter 2 Named Locations
 

Grid Coordinates

North West
North
North East
West
Central
East
South West
South
South East