This map/grid location appeared until Chapter 2 Season 1 and has since been updated.
Some sublocations, points and mapping might have been removed or changed. Please see Misty Meadows for the latest information about the map.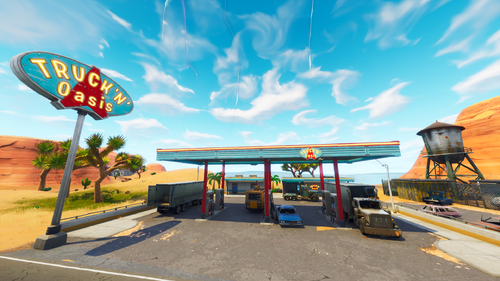 Trucker's Oasis was an Unnamed Landmark in Battle Royale added in Season 5, located inside the coordinate G9, located southwest of Moisty Palms. It was a gas station with some trucks located in the south of the desert. It belonged to Truck 'N' Oasis.
In week 5 of Season 10, a rift beacon was constructed nearby the gas station. This beacon caused it and the Pueblo village to be transformed into the Pandora POI. However, it reappeared in week 7 after the Pandora was removed.
Points and Sublocations
Trucker's Oasis (POI) Top View
* Click on the map to view geographic sub-locations.
Main Building
Other Loot Spots
Props
Water tower
Truck'n Oasis sign
Cardbord Palm Tree
Map Changes
Trivia
This is one on the few locations to be added back to the map after being removed.
Gallery
Battle Royale Geography
Chapter 2 Named Locations
 

Grid Coordinates

North West
North
North East
West
Central
East
South West
South
South East