Fire Emblem Warriors: Three Hopes - The Loop
Play Sound
This map/grid location appeared until Season 10 / 10.31 Patch Notes and has since been updated.
Some sublocations, points and mapping might have been removed or changed. Please see Gotham City for the latest information about the map.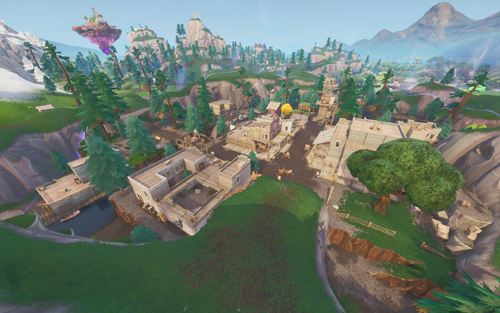 Tilted Town (Formerly Neo Tilted) was a named Point Of Interest in Battle Royale added in Season X/10, located inside the coordinates D5 and D6, southwest of Loot Lake, north of Greasy Grove, northwest of Shifty Shafts, far south of The Block, far east of Snobby Shores and west of Dusty Depot. It was a old and western-themed town with various different shops, houses, a bank and under construction clock tower plus much more.
Tilted Town was added on the 10.00 Content Update, replacing Neo Tilted which was the replacement of Tilted Towers in Season 9. There was a giant bubble around Tilted Town. As soon as players enter this bubble, they were not allowed to build or destroy anything in this zone. Some weapons were unvaulted and are exclusive inside the circumference of the bubble. Players skins also were granted cowboy outfits when entering the area.
In week 8 of Season 10, another rift beacon was constructed in Tilted Town, which transformed the POI into Gotham City for a Batman collaboration.
Points and Sublocations
Tilted Town Top View
* Click on the map to view geographic sub-locations.
For more detail on buildings, go to Tilted Town/Buildings
Clock Tower (under construction)
The clock tower from Tilted Towers which is still under construction, although placed in a different location.
Saloon/hotel
The largest building in Tilted Town which is a 4-story hotel with a saloon on the first two floors. The 3rd floor appears to be empty and the final floor is the hotel.
Jail
A jail which also doubles as the sheriffs office. The jail has a courtyard which is not normal for wild-west jails
Morgue
A building that has a lot of coffins in it and could be a morgue or a coffin shop. The building has a design that looks like a fish. It may be relating to the Fish Buildings from the previous Neo Tilted and Tilted Towers.
Mines
A mine system similar to Shifty Shafts. the mine has shafts and is complete with a Tipple
Bank
A bank that is connected to a gun shop. The bank appears to have recently had a break in as the wall to the safe appears to have been rammed with something and all the money is gone.
Gun Shop
A gun shop that the bank is connected to. The shop is full of ammo boxes and an apartment is on the second floor.
Other Loot Spots
Tents
River
Lake
Farmhouse
Trading post
General store
Stables
Props
Carriages
Bank Sign
Gunsmith Sign
Shop Sign
Telegraph Sign
Saloon Sign
Hotel Sign
No Building Sign
Victorian Couch
Old Style Clock
Wagon Weel
Flower in Vase
Old Coo Coo Clock
Grandfather Clock
Barrels
Empty Banner
Coffin
Unvaulted Weapons
Note: These weapons were only available inside the Rift Zone of Tilted Town.
They could not be looted anywhere else however they would be kept after leaving the rift zone. But due to Tilted Town being removed, all the weapons that were unvaulted in Tilted Town are now back in the vault.
Map Changes
August 6th: Tilted Town has been added to the map, replacing Neo Tilted.
August 27th: Sloped ladders have appeared to make it easier to get up the hills.
September 18th: A rift beacon was constructed in Tilted Town.
September 19th: The rift beacon has been activated. There is also a batarang stuck inside a nearby hay bale.
September 21st: Tilted Town was removed and replaced by Gotham City.
Trivia
Tilted Town is the second location and first named POI to disallow any breaking/building. The first location was the Continental Hotel in Neo Tilted in Wick's Bounty.
Tilted Town is the first location to have unvaulted weapons available to everyone in game modes.
The Morgue has a design that looks like a fish. It may be relating to the Fish Building from the previous Neo Tilted and Tilted Towers.
For some reason, the Clock Tower got moved from where it was in Neo Tilted and Tilted Towers.
Tilted Town is currently the only POI to replace a POI that replaced a POI that was removed. It replaced Tilted Towers and Neo Tilted, and was replaced by Gotham City.
Tilted Town is the fourth shortest named POI to be added on the Battle Royale map, only staying for a bit over a month. The 3 shortest lived named locations were Moisty Palms, Gotham City and Starry Suburbs.
Cowboy outfits weren't created for every character, and the skin would change to a cowboy themed skin if a cowboy outfit wasn't made for your character.
Tilted Town was the final named POI removed before The End Event.
Tilted Town was one of three locations in the game's history to not experience a live event (be on the map while a live event was taking place). The others are the Pandora and Chapter 2's Isle Of The Storm (POI).
See Also
Battle Royale Geography
Chapter 2 Named Locations
 

Grid Coordinates

North West
North
North East
West
Central
East
South West
South
South East