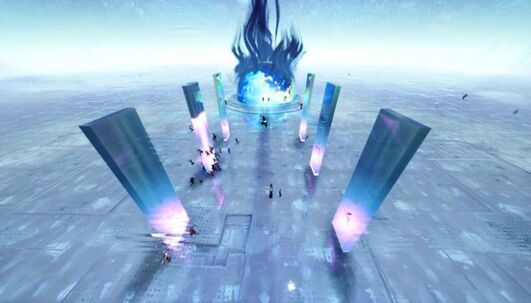 The Unvaulting Event was a Live Event that took place during Week 10 of Season 8 on May 4th, 2019, 3:00 P.M. EST. The event consisted of the hatch at the Loot Lake opening, revealing a gateway to the Vault itself. The hatch would teleport all the players to a large, barren dimension with a giant Nexus orb, a desk, and 6 pillars containing one vaulted item each. The items in the pillars were the X-4 Stormwing, Infinity Blade, Grappler, Bouncer, Drum Gun, and the Tactical Submachine Gun. Players would vote upon which weapon they would like taken out of the vault by using their harvesting tool to hit the pillar of choice until one shattered, freeing the weapon from the vault and sending it back into the game world. The item that players voted for the most was the Drum Gun.
After the Drum Gun was unvaulted, players were teleported above Loot Lake and the Volcano erupted. Multiple magma rocks fired out from it. The first hit the shopping plaza of Retail Row. A second magma rock launched that hit the side of Polar Peak. Finally, a magma rock split into multiple rocks, and hit Tilted Towers multiple times, before a final, slightly larger magma rock hit the center of Tilted, destroying all but one building.
There was a separate Limited Time Mode for players to watch the event named The Unvaulting. It played similarly to Team Rumble, with the elimination limit being 200 instead of 150. The storm circle was always positioned directly over the Loot Lake bunker so you wouldn't respawn and teleport across the map to miss the event. Due to an error, many players who were in the game during the event were unable to experience the event. All players in game during the event (whether the event worked for them or not) were given the Arcana glider as a free gift.
Gallery