This page is currently in Work In Progress.
Some content on this page may be missing, uncomplete or unfinished. Help us by filling out the missing parts & other pages.
This map/grid location appeared until Season 10 and has since been updated.
Some sublocations, points and mapping might have been removed or changed. Please see Retail Row for the latest information about the map.
Slipstreams were mobilities feature that was added in the initial patch of Season 9 and could be found throughout the map. They were turbines that allow you to enter skydive mode and move around the map quickly. You could leave them anytime and rejoin them anytime. Slipstreams usually got disabled when the 5th phase of the storm is around the corner.
Gallery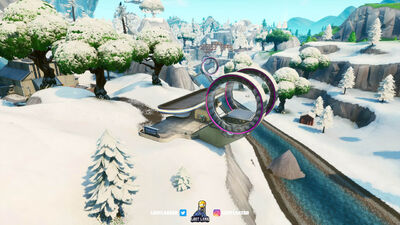 Slipstream initial appearance in game.
Map Changes
V9.00
V10.00
August 1st: The major slipstream was removed, as were all the Sky Platforms.
August 6th: Tilted Town replaced Neo Tilted, leaving Mega Mall as the only location with Slipstreams.
August 14th: Retail Row replaced Mega Mall, removing all evidence of Slipstreams from the game.
Battle Royale Content
Seasonal Foraged Map Objects
Hop Rocks
(
Season 4
,
X
)  • 
Rifts
(
Season 5
,
6
,
7
,
8
,
9
,
X
,
C2 S3
,
C2 S4
)  • 
Shadow Stones
(
Season 6
,
X
)  • 
Ziplines
(
Season 7
,
8
,
9
,
X
,
C2 S1
,
C2 S2
,
C2 3
,
C2 S4
,
C2 S5
,
C2 S6
)  • 
Volcano Vents
(
Season 8
,
9
)  • 
Slipstream
(
Season 9
,
X
)  • 
Secret Passages
(
C2 S2
,
CH2 S3
,
CH2 S4
,
C2 S5
,
C2 S6
)  • 
Whirlpool
(
C2 S3
)  • 
Zero Point Crystal
(
CH2 S5
)  • 
Bounty Boards
(
CH2 S5
,
C2 S6
)