Season X is the tenth season of Battle Royale which ran from August 1st to October 13th, 2019. The theme of the season was "Out of Time" and was revealed with the (heavily meme-able) story trailer. The orb at Loot Lake exploded, slowly disorienting the time stream of the island, bringing older locations. This was the last season of Chapter 1.
The season featured major changes to the map, such as a giant "frozen" meteor, the return of Dusty Depot and the Factories, giant mech suits, and much more.
Starting from July 28th, Epic Games started releasing a teaser every day until the season starts - with the first one being revealed during the World Cup 2019. The first teaser showed a picture of Dusty Depot, the second showed a picture of the B.R.U.T.E mech suit, the third showed two battle pass skins and the fourth was a sneak peek of the trailer.
Battle Pass
The Battle Pass for Season X is a way to earn exclusive in-game rewards by playing Battle Royale. In Season X, you could have bought the Battle Pass for only 950 V-Bucks. The rewards included in Season X were: Outfits, Gliders, Wraps, Harvesting Tools, Pets, Back Bling, Emotes, Sprays, Toys, Contrails, Music, Loading Screens, and more. Some of the outfits during this season were: X-Lord, Titled Teknique, Y0ND3R, Sparkle Supreme, and Ultima Knight.
All in-game items that can be unlocked stay and do not expire. Free Pass rewards are available to all players and purchase is not necessary while Battle Pass rewards are only available to players that purchased the Battle Pass with V-Bucks. A bundle that includes automatic completion of the first 25 Tiers was also offered for 2800 V-Bucks and can be purchased anytime during the season.
At the start of Season X, the ability to gift friends Battle Passes was also introduced. This feature is exclusively available until August 15th, and the first gift you buy will also have a unique gift box for you to use.
Missions
Missions are a new battle pass feature; they are series of thematic objectives that grant rewards. As you complete these objectives, you'll earn Battle Stars, XP, and exclusive cosmetic items. More information about Missions can be found in the Battle Pass and Challenges tabs. During Season X, Limited Time Missions were introduced. These are exactly like regular missions but they were only out for a limited time.
Cosmetics
Various thematic sets including Cosmetic Skins, Harvesting Tools, Emotes, and Gliders were also released on Season 10 as part of the item shop components on a daily rotation basis and Battle Pass rewards. Loading Screens are granted from completing Battle Pass Challenges.
Starting from Patch 10.30 of Season 10, players will every now and again be able to vote for which item they would like to come back to the shop. The item with the most votes will reappear in the shop the following day:
Weapon and Item Releases
10.00 Patch Notes (August 1st)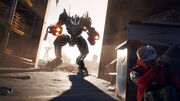 This vehicle can be operated by up to two players. If two players are operating it, one (the driver) controls movement, while the other (the gunner) rains down missiles and shotgun shots.
The driver can:

Dash into combat.
Super Jump to victory.
Stomp enemies and structures into the ground.

Anything you would normally harvest will grant materials when destroyed.

The passenger has two weapons at their disposal: a shotgun and a missile launcher.

Shotgun

Clip Size: 10
Damage: 50
Headshot Multiplier: 1.5x

Missile Launcher

Fires up to 10 missiles at once.
Holding down Trigger will begin loading missiles.
After releasing Trigger, or after 10 missiles have been loaded, all missiles will automatically fire.

New Mechanic: Overshield

Consumes 200 of any Material type to create a personal overshield for 5 seconds to protect you in the mech.
Vaulted Items
10.00 Content Update
Available in Rare, Epic, and Legendary variants.
Uses Medium Ammo.
Projectiles travel faster than other Sniper Rifles.
Damage: 31/33/35
Headshot: 62/66/70
4 Rounds per second.
16 Rounds per magazine.
Uses a reduced zoom scope.
Can be found from Floor, Chest, Vending Machines, Supply Drops, and Loot Carriers.
Unvaulted weapons (these weapons only spawned in Titled Town:)
10.10 Patch Notes
Unvaulted (only for Sword Fight LTM:)
Vaulted:
10.10 Content Update (August 20th)
A throwable item that breaks on contact and spawns a large object in the sky that plummets to the ground.

The plummeting object:

Damages players and destroys everything in its path.
Creates a small shockwave upon landing that damages players and destroys everything in its radius.

Damage:

Direct hit: 200

Direct hits slightly knock players back.

Shockwave hit: 100

Both hits immediately destroy vehicles and destructible objects on impact.

Drops in stacks of 2.
Max stack size: 4
Epic Rarity.
Available from Floor Loot, Chests, Supply Drops, and Llamas.
Glitched Consumables
Glitched Consumables are at the explosion site. These randomly switch between different forageable items from the past.

Apples
Mushrooms
Coconuts

Grant 5 Effective Health (sum of a player's Health + Shield).

Peppers

Increases player movement speed for a short duration.

Hop Rocks

Decreases player gravity for a short duration.

Shadow Stone

Turns players into a ghost for a short time, temporarily increasing their movement speed slightly and letting them dash through structures.
10.20 Patch Notes (August 27th)
Rare item.
Found from Floor Loot, Chests, Supply Drops, and Vending Machines.
Lasts for 30 seconds.
Creates a large bubble that blocks projectiles and explosives. However, players can still run through it.

Projectiles and explosives can be fired from inside the bubble but cannot go outside of it.
The bubble's emitter has 400 HP. Destroying it deactivates the bubble.
Vaulted Items
10.20 Content Update (September 3rd)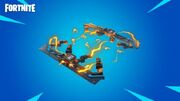 This item is a thrown consumable and occupies an inventory slot.
On impact, the thrown object deploys a damaging trap on both sides of a building piece.
Upon impacting terrain, it automatically builds a wall and then deploys a damaging trap on both sides of the wall.

The traps shock enemy players who are within a tile of their face.
The traps have a 1-second deploy time before they can be triggered.
When triggered, the traps have a 0.5-second delay before firing.
After the traps have fired, they have a cooldown of 2 seconds before they can be triggered again.

Epic Rarity.
Found from Floor Loot, Chests, Vending Machines, Supply Drops, and Llamas.
Drops in stacks of 2.
Max stack size: 4.
10.20.2 Hotfix Update (September 4th)
Vaulted Items
Unvaulted Items
10.30 Patch Notes (September 11th)
10.31 Patch Notes (September 18th)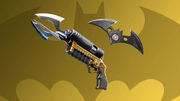 Available in Mythic variant.
Found from Floor Loot, Chests, Supply Drops, and Llamas.
The Batman Grapnel Gun comes with 10 charges. A charge is consumed each time the player is launched.
When the grappling hook from the Batman Grapnel Gun impacts something in the environment, the owner will be launched in a flat arc towards the point of impact.
At the apex of the launch, the player will deploy the Bat Cape, which can be used like any other Glider to traverse great distances.
Available in Mythic variant.
Found from Floor Loot, Chests, Supply Drops, and Llamas.
Drops in stacks of 5.
Max stack size is 10.
This consumable item is thrown out in a relatively flat arc. It will home in towards opponents.
The projectile explodes when near an opponent.

Explosion damage:

50 damage to players.
200 damage to the environment.

If the Explosive Batarang impacts the environment, it will stick to the spot where it lands. At that point, it behaves as a proximity mine, exploding when opponents come too close to it.
An Explosive Batarang that has impacted the environment can be disarmed and picked up by both the player who threw it or their allies.
10.40 Patch Notes (September 25th)
10.40.1 Patch Notes (October 2nd)
Map Changes
Map v10.00 (August 1st)
The Block has been changed into a tropical resort area.
All of the Sky Platforms, wind turbines, propaganda posters, and blimps in the sky have been removed.
The stone family has disappeared again.
Most of the Slipstreams have been removed, apart from the ones surrounding Neo Tilted and Mega Mall.
The shack that was destroyed by the CUBE near Fatal Fields now has more stairs and work done on the walls and roofs.
Some more grass has grown in Paradise Palms.
A shack south of Paradise Palms near the CUBE's birthplace has started growing strange roots similar to the ones seen in the CUBE corrupted areas from Season 6.
The red house at the Pueblo that used to be filled with chairs is now filled with TVs instead.
One of the mini little castles south from Polar Peak now has a couple of toilets and pipes on it, these are the same ones from Flush Factory.
A mini-movie screen and a "Drive-In Theatre" sign has appeared east of Sunny Steps, hinting Risky Reels' Return.
All of the volcano vents have stopped working.
A golf clubhouse has appeared near Lazy Lagoon, an easter egg to a previous location, Lazy Links.
The battle bus that crashed north of Loot Lake during Fortnitemares has Turned into a crashed RV.
One of the arms of the car and truck mech east of RV Park has fallen off, and it is holding a pole and raising it in the air. It seems to reenacting the Mecha from The Final Showdown Event.
A a giant teddy bear has appeared in a shack west of Paradise Palms.
A bit of snow has melted at the Viking Outpost.
A garage with gnomes on top of and inside the building has been added on a hill west of Pleasant Park.
Half of a tower just south of Lucky Landing has turned into a wooden shack.
The stuff inside a shack south-west of Pleasant Park has gone upside down.
August 2nd: A telescope has appeared on top of the northern warehouse at Dusty Depot and it is facing towards the Frozen Meteor.
August 4th: A small laboratory and chalkboard has been added inside the grey warehouse of Dusty Depot.
A rift beacon is being built in Neo Tilted, and is facing towards Loot Lake.
August 5th: The rift beacon at Neo Tilted has been completed and is turned on. It seems to be gathering energy from Loot Lake.
The rift beacon at Neo Tilted has opened a small rift in the sky above the POI.
August 6th: The rift beacon has created a large bubble around Neo Tilted, turning it into a new POI called Tilted Town. Building and destroying objects is not allowed in Tilted Town.
The slipstream around the area has been removed, leaving the one around Mega Mall the only one left.

The Block has been changed into a futuristic town surrounded by a giant dome and desert.
The exterior of the grey warehouse at Dusty Depot, as well as the interior, has been updated.
August 8th: Another satellite was added on the Dusty Depot grey warehouse, and the inside has been updated with a second floor and more computers.
August 11th: A rift beacon is being constructed at Mega Mall.
August 12th: The rift beacon at Mega Mall has been activated, and a small rift has been opened in the sky above the POI.
Map v10.10 (August 14th)
The rift beacon at Mega Mall has created a large bubble around the POI, turning it into pre-Season 7 Retail Row that is now infested by CUBE monsters from Fortnitemares.
Grass continues to grow in the desert biome and the process begins to accelerate.
The Block has been changed into a giant metal factory related building surrounded by lava.
August 22nd: A rift beacon is being constructed in the desert, southwest of Paradise Palms.
August 26th: The rift beacon in the desert has been activated and has opened a small rift above it.
Map v10.20 (August 27th)
The rift beacon in the desert has created a massive bubble which surrounds a large portion of the desert. A new Pandora POI was added and replaced the Pueblo and Trucker's Oasis.
The grey warehouse of Dusty Depot has been updated yet again. Pieces from the B.R.U.T.E mech as well as some other things can be found inside.
A dance floor and disco lights were added into the westmostern hangar of Frosty Flights.
The surface and inside of the Frozen Meteor has started to gain small cracks.
The shack that was destroyed by the CUBE near Fatal Fields now has a roof installed and more work has been done on the exterior.
The house west of Fatal Fields now has Carbide and Omega posters.
A statue was added to Haunted Hills.
Even more snow, especially among the edge of the biome, continues to melt.
Grass continues to grow in the desert.
Ladders to the top of hills have been added in Tilted Town.
The Block has been changed into a giant clockwork castle area with many machines and blimps.
August 29th: A rift beacon is being constructed at Fatal Fields.
September 2nd: The rift beacon at Fatal Fields has been activated and has opened a small rift above the POI.
September 3rd: The Floating Island from Season 6 has reappeared just northwest of Fatal Fields. Additionally, the Motel, noms sign and Durrr Burger head near Pleasant Park have appeared on the island.
Map v10.30 (September 11th)
The rift beacon at Paradise Palms has created a large bubble around the area, converting it into a mix of Paradise Palms and Moisty Mire called Moisty Palms. Trees and water pools from Moisty Mire as well as the filming studio have reappeared too.
The rift beacon at the frozen lake has also created a large bubble around the POI, melting the ice and snow causing Greasy Grove to return. The Durrr Burger restaurant has however been replaced by a large taco shop.
The grey warehouse at Dusty Depot has been significantly updated. The roof has opened and something is being constructed inside of it.
Map v10.31 (September 18th)
Map v10.40 (September 25th)
Epilogue
After the black hole caused by the malfunctioning Zero Point, there was only a live video of it. Every so often it would display a series of numbers that corresponds to a word stated by the Visitor, which also creates another piece of dialogue. 11 146 15 62 "I was not alone." 87 14 106 2 150 "Others were outside the loop." 69 146 15 36 "This was not calculated." 2 176 8 160 65 "The moment is now inevitable". Before entering Chapter 2 Season 1 officially, dialogue is shown, stating: "...[initiating sub Loop text transmission]... ...[security encryption M7 authenticated]... The Containment Field has stabilized, The Bridge is intact. ...[redirecting, received]... Surprising is the sheer volume of Matter resolved around the Bridge. Extensive Charting and Analysis are required. Our best [redacted: D4] Team has been scrambled and inserted. We expect resistance. And similar embedded Agents. We've been as quiet as possible. But the gaze of others may now be turned toward Zero. A whole new world awaits."