Raise a Floppa - The Loop
Play Sound
Fortnite Chapter 2 season 7of Battle Royale ran from December 6th, 2018 to February 27th, 2019. The Iceberg collides with the island and covers the southwest and some of the west part of the island with snow. The Sgt. Winter appears with an army of Snowmen (AKA Slushy Soldiers) and began the events of Season 7. Season 7's main theme seemed to revolve around arctic warfare, judging by the Iceberg.
The season features major changes in the map such as new POIs, Ziplines, a new vehicle called the X-4 Stormwing and an iceberg colliding with the map covering Flush Factory and Greasy Grove expanding the island size in the southwest which was slowly moving during late Season 6.
Starting from the 3rd of December, Epic Games started releasing a Season 7 teaser everyday until the season began. These teasers revealed some of the Battle Pass skins.
Battle Pass
The Battle Pass for Season 7 is a way to earn experience. Free Pass rewards are available to all players and purchase is not necessary while Battle Pass rewards are only available toTiers was also offered for 6600 V-Bucks and can be purchased anytime during the season.
14 Days Of Fortnite
The 14 Days of Fortnite event was a Christmas themed event that ran from December 18th to January 2nd. Every day a new challenge would be available and after completing it you would be granted a free present. During this event, New and Old LTM's were introduced, and even some vaulted items returned, but only in those LTM's.
The Rewards:
GG Ornament Spray
Winter Firefight Loading Screen
Snowball Toy
Snowman Emoticon
Combat Wreath Back Bling
Crackshot Special Loading Screen
Merry Munchkin Pet
Take The Elf Emote
Snow Globe Banner
Holiday Stormwing Spray
Frozen Axe Pickaxe
Snowflake Emoticon
Disco Wrap
Equalizer Glider

Gamemodes (New and Old):
The name of the event parodies the classic Christmas Song "12 Days of Christmas".
However, when the event ended, Epic Games decided to bring back some of the most popular LTM's from "14 Days Of Fortnite", starting with Unvaulted and Team Rumble. Due to an error Epic made about the end date of the Event, anyone who completed at least one challenge in the event will get the Equalizer Glider.
The event was eventually brought back for 7 more days after Epic felt the Equalizer Glider wasn't enough for players who wanted all the rewards. They also decided to bring back these LTM's:
Unvaulted, Team Rumble, Siphon and Food Fight
Creative
Fortnite Season 7 added a new game mode called Creative allowing players to make their creations on many diffrent island with some presets, and devices such as vehicles. It also allows players to fly and spawn items in this game mode. All players who bought the Battle Pass were given early access to this new game mode for the first week of the season.
Creative became free-to-play on December 13.
Wraps
Wraps are cosmetics in Fortnite Battle Royale introduced in this season that let you change skins of your vehicles, Assault Rifles, Shotguns, SMGs, Sniper Rifles and Pistols and they were introduced in Season 7 as rewards from certain challenges. In Season 7's Battle Pass, there are 6 types of Wraps.

However, there are a few wraps obtainable outside Season 7's Battle Pass. Disco Wrap could be obtained as an exclusive reward from completing 13 Days of Fortnite Day 13 Challenge. A few Wraps can also be bought from the Item Shop such as Candy Cane and the Hot and Cold Wraps. Additionally, the Blue Metallic Wrap could be obtained by completing 6 out of 13 Ice Storm Challenges.
Cosmetics
Various thematic sets including Cosmetic Skins, Harvesting Tools, Emotes and Gliders were also released on Season 7 as part of the item shop components on daily rotation basis and Battle Pass rewards. Loading Screens are granted from completing Battle Pass Challenges:
Weapons and Item Releases
7.00 Patch Notes (December 6th)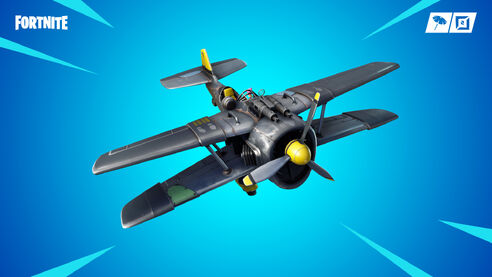 5 total seats, 4 passengers (on the wings) and a pilot.
Has a mounted machine gun and can boost and airbrake
Players will go into the skydiving state when exiting the X-4 Stormwing.
Vaulted Items
7.01 Patch Notes (December 11th)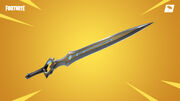 Found on Polar Peak.
Primary Fire deals 75 damage to enemies players and destroys structures in one blow.
Alternate Fire allows the player to leap great distances and destroy objects in its path. Upon landing, it delivers 25 damage and a knock-up to nearby players .
The holding the sword also grants additional abilities:

Increases max Health and Shields to 200.
1 HP Regeneration per second to max Health and Shields.
+50 health per elimination
Increased movement speed to 130%.

The first player to pull the Infinity Blade from its pedestal will be instantly healed to full Health and Shields.
If a player picks up the Infinity Blade, all other inventory items aside from building materials will be dropped.
When the wielder of the Infinity Blade picks up an item (aside from building materials), the Infinity Blade will be dropped.
The Infinity Blade will be dropped when the wielder is knocked out or eliminated.
Only one Infinity Blade will appear per match.
The Infinity Blade was vaulted 3 days later (December 14)
7.10 Content Update #1 (December 23rd)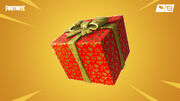 Presents! Contain one of several powerful sets of weapons/items.
A Legendary rarity item that drops in stacks of one (max of 5 stacks).
Can be found from floor loot, chests or Supply Drops.
7.10 Content Update #2 (December 30th)
Activate to create powerful blasts of music that deal structure damage in a large area!
Newly built walls in the radius of the box are destroyed with every blast.
Shoot the Boom Box to stop it's effects.
7.10 Content Update #3 (January 8th 2019)
Available in Epic and Legendary variants.
A single shot, scoped sniper rifle.
The suppressor makes for a quieter shot, trading stealth for power.
Deals 100/105 base damage
Vaulted Items
7.20 Patch Notes (January 15th)
Available in Epic and Legendary variants.
Fires Medium Ammo.
42 / 44 damage per shot.
Available from floor loot, chests, Supply Drops, and Vending Machines.
Added Gliders, an item that grants Glider redeploy:
This item takes up an inventory slot and can be found from normal loot sources.
Gliders do not need to be selected to deploy. Activate them by pressing your jump button while in mid-air.

Rarity is Rare.
Gliders come with 10 charges.
Each deploy uses a charge. When all charges are used the item disappears.
Glider redeploy does not consume a charge when using a Launch Pad, Rifts-to-Go, or respawning in a Limited Time Mode.
Found from floor loot, chests, Vending Machines, and Supply Llamas.
7.20 Content Update (January 22nd)
Use Primary Fire to throw a projectile that creates a destructible snowman.
Use Secondary Fire to wear the Sneaky Snowman.

Sneaky Snowman has 100 Health and acts as a shield when worn by a player.
Sneaky Snowman is destroyed when its Health reaches zero or when the player wearing the snowman swaps to a different item or building mode.
This means that a player wearing a Sneaky Snowman cannot build or use other items. Movement of all types is allowed.

Available in Common variant.
Can be found from Floor Loot, Chests, and Supply Llamas.

Drops in stacks of 5.
Max stack size of 10.

Vaulted the following items:

Quad Rocket Launcher
Port-A-fortress
Grappler
7.30 Patch Notes (January 29th)
The Chiller Grenade will knock players back, causing them to slide along the ground.
Allies, enemies, and vehicles hit with the Chiller Grenade will slip around with icy feet/wheels for a duration of 7 seconds.
Drops in stacks of 3.
Common rarity.
Can be found from Floor Loot and Vending Machines.
Vaulted
7.30 Content Update (February 5th)
A thrown item that launches a barrage of bottle rockets to the toward the targeted direction.

Rarity: Uncommon
Found from Floor Loot, Chests, Vending Machines, Supply Llamas, and Supply Drops.
Drops in stacks of 2.
Max stack size of 6.
Fires 45 rockets of varying speeds randomly within a cone over roughly 9 seconds.
Deals 10 player and 40 environmental damage per explosion.
Max 2 active per player.
Environmental Campfires
Campfire props in the world can now be lit by interacting with them.
Behaves like the Cozy Campfire, healing 2 health per second for 25 seconds to all nearby players.
Each campfire can only be used once per match.
You can tell if a campfire has been used by whether or not you can still see wood in it.
Vaulted
7.40 Patch Notes (February 14th)
Available in Common, Uncommon and Rare variants.

Deals 41, 43, 45 damage. 2x headshot multiplier.

Can be found from Floor Loot, Chests, and Vending Machines.
Uses Medium Ammo.
Fires quick-moving projectiles without damage falloff.
Unvaulted

Cupid's Crossbow - Limited Time Item

Epic

Rarity.
Infinite ammo.
Bodyshot Damage: 79.
Headshot Damage: 197.
Can be found in Floor Loot and Chests.
Does 1 environmental damage.

Vaulted
7.40 Content Update (February 19th)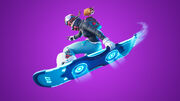 Use weapons or consumables as you ride the slopes. Boost past the competition with electrifying speed. Loot and revive downed allies. All without ever getting off the Driftboard!
Building is not possible while on the Driftboard.
Can be found scattered all around the map.
Map Changes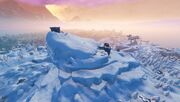 Map v7.00 (December 6th)
Map v7.01 (December 11th)
Map v7.10 (December 18th)
Polar Peak has melted much more, revealing more of the castle, and the rest of a few of the houses. A small piece of ice has also been added in place of where the Infinity Blade would stand.
The NOMS sign has been removed from the store at Retail Row. A small Pizza Pit restaurant building has also been added next to the Pizza Pit truck.
Large candy canes have started to appear around the map, as well as large Christmas trees at different locations.
A new Dumpling restaraunt was added to Lucky Landing.
The snow biome is starting to spread and expand.
December 25th: The entire map has now been covered in snow.
December 26th: The map has turned back to normal.
December 30th-January 1st: Every Hour a Giant Disco Ball would appear in the sky and cause everyone on the map to do the Boogie Bomb dance with fireworks in the sky (Celebrating New Year). After a while, the ball would explode and a firework launched into the air, afterwards it created an explosion which showed the Llama symbol and "2019" numbers.
January 1st: The tunnel in the back of Polar Peak has melted more, allowing entrance into a lower level of the castle. Some mysterious ice eggs can be found inside.
January 2nd: All Christmas decorations are gone, besides the Holiday bushes and Stormwings.
January 4th: The big chunk of ice that is covering what seems to be a bunker on the outer island between B10 and C10 has started cracking.
January 8th: Most Christmas Decorations (Such as Trees, Candy Canes and Snowflakes) have returned, due to the "14 Days Of Fortnite" event being brought back for 7 more days.
Map v7.20 (January 15th)
All of the 14 Days Of Fortnite Christmas decorations are now gone again.
A floating ice sphere has appeared above Polar Peak. It seems to contain the Ice King inside it. The iceberg has also melted even more, revealing more of the castle and ice eggs inside it.
The reconstruction of the building in Tilted Towers is almost complete.
The Diner near the Race Track has been changed into a SoftDeeZ ice cream shop.
A stone lady statue has appeared at Lonely Lodge.
The snow biome has expanded a bit more.
A big chunk of ice between B10 and C10 is cracking even more, and can now be damaged with weapons in game. It has 5 Billion Health, and damaging it affects other players in different games.
January 16th: The big chunk of ice has been destroyed and revealed a bunker, similar to the one in Wailing Woods. Just like the one in Wailing Woods, it cannot be opened or destroyed.
January 16th: Televisions began displaying a "Weather Warning" screen, which warn of a snowstorm coming to the island.
January 17th: Televisions are now displaying a 48-hour weather countdown, similar to back in Season 4.
January 18th: There is now fireballs and strange symbols around the Polar Peak Sphere, in a clock shape.
January 19th: The Ice King has broke open the sphere and summoned a gigantic phantom of him which made a snowstorm that covered the entire map with snow again. It also spawned ice shards that create Ice Monsters that are very similar to the Cube Monsters in Season 6.
January 22nd: There are now Snowmen scattered around the map.
There is now a golden truck next to a couple of houses near The Block.
The big chunk of ice inside the Polar Peak castle dungeon has slightly melted.
The construction of the Tilted Towers building is very nearly done.
January 26th: The ice inside of the dungeon has melted more, revealing some type of pedestal that is chained up. There may be a person trapped inside the ice.
January 28th: The piece of ice in the Polar Peak dungeon has melted slightly, and a arm of the prisoner is sticking out.
Map v7.30 (January 29th)
The piece of ice in the Polar Peak dungeon has completely melted and the pedestal is empty, meaning The Prisoner has escaped.
The chunk of ice covering the Infinity Blade altar seems to be melting.
There is now a small Durrr Burger restaurant between the water tower and the Uncle Pete's Pizza Pit restaurant.
The new Tilted Towers building has finally been finished - it appears to be a News HQ.
A stage is being set up at Pleasant Park where the Football Field is.
The Stone Man statue has moved again.
All of the snow over the map is starting to melt, starting from the north-east part of the map.
January 30th: More of the map, including The Block, Wailing Woods and Lonely Lodge, has melted.
Some speakers and stages have been set up at Pleasant Park.
January 31st: Golden Balloons have appeared across the map for the challenge.
Even more snow across the map, including Tomato Temple, Lazy Links and Junk Junction, has melted.
February 1st: The stage at Pleasant Park has been fully set up, complete with lights and singing equipment.
The snow across the map is still melting, with Salty Springs, Loot Lake and Haunted Hills melted.
February 2nd: As a NPC, Marshmello performed a 10 minute-long concert, with music, lights, holograms and more, at Pleasant Park.
The Durrr Burger truck and the Uncle Pete's Pizza Pit truck are at Pleasant Park.
A mysterious light from a distant mountain outside the map has appeared.
The snow on the map has melted back to how it was before the ice sphere was destroyed.
February 3rd: The stage at Pleasant Park is now gone
February 5th: The Pleasant Park football field has been changed again, due to Super Bowl LIII.
The Block has been changed into a Chinese town.
There are Chinese new year decorations around the map.
The ground is occasionally shaking and rumbling noises can be heard, which is an earthquake. 
February 6th: The Pleasant Park football field has been changed back to normal.
The earthquakes are getting more intense, and trees and other objects are falling over. 
February 7th: The earthquake has gotten stronger, causing cracks in the ground. The first one has appeared near Tomato Temple.
Map v7.40 (February 14th)
Valentine's decorations are now across the map.
Cracks are starting to appear in the ground across the map (for full list see The Earthquake Event).
Tilted Towers seems to be cracking.
Snow is melting in some areas like the Stadium, Tilted Towers, Snobby Shores, and the house on the hill.
The ice eggs in the Polar Peak dungeon are now gone.
The Stone man and Stone Lady statues now seem to be waving at each other.
The Block has been changed into a factory plaza.
February 15th: More cracks are appearing in the ground, as well as large cracks near Lazy Links and Wailing Woods.
February 16th: Even more cracks have appeared near Dusty Divot and The Block.
The snow has melted even more. Snobby Shores and the Stadium are no longer covered in snow.
February 17th: The crack near Dusty Divot has expanded, as well as the crack near The Block.
The pizza pit restaurant in Retail Row has slightly increased in size.
Lots of more grass is growing in and around Paradise Palms.
February 19th: Another crack has appeared east of Salty Springs.
A crack has appeared north of Loot Lake.
The Block has been changed into a tank.
The bridge northwest of Tomato Temple has been partially destroyed by a earthquake.
The Quadcrashers near Junk Junction's Race Track have been replaced by Driftboards.
Another crack has appeared northeast of Retail Row
February 22nd: The grass in the west part of Wailing Woods is starting to dry up and is turning a slightly brown color.
February 23rd: More cracks are appearing around the map.
February 24th: The two cracks west of Lazy Links have expanded.
X-shaped marks are appearing across the map, more commonly found on hills and mountains.
February 25th: More of the grass in Wailing Woods is drying up, and some of the trees are turning a brown color.
February 26th: All the trees in Wailing Woods and the area around it, including some of Lonely Lodge and Tomato Temple, have turned brown. The grass has also completely dried up and turned brown.
February 27th: Ashes start to rise up from Wailing Woods, and then a large, final crack appeared in Tilted Towers and destroyed the news HQ building.