World of Warcraft: Dragonflight - The Loop
Play Sound
Season 6 of Battle Royale ran from September 27th to December 5th, 2018. "Darkness Rises" theme was unveiled on the pre-season start, which is the next part of the Worlds Collide story line. The story about the six-sided mystery continues after it sunk under the body of waters, made a vortex and the center island float completely destroying Loot Lake while the areas of the imprinted runes became corrupted and spawns Shadow Stones.
The season also features major map changes such as a Haunted Castle, Corrupted Areas, Floating Island and Corn Fields.
Starting on September 24th, Epic Games released a daily series of teasers that hinted about the upcoming theme of the season. The images featured three skins with the Cube in the background.
Battle Pass
The Battle Pass for Season 6 is a way to earn exclusive in-game rewards by playing Battle Royale during Season 6 and is available for purchase from the Item Shop for

950 V-Bucks. These rewards include: outfits, gliders, harvesting tools, pets, back bling, emotes, sprays, toys, contrails, music, loading screens and more.
All in-game items that can be unlocked stays and do not expires. Free Pass rewards are available to all players and purchase is not necessary while Battle Pass rewards are only available to players that purchased the Battle Pass with V-Bucks. A bundle that includes automatic completion of the first
25 Tiers was also offered for

2800 V-Bucks and can be purchased anytime during the season.
Pets
Pets are companion cosmetics in Battle Royale that act similarly to Back Bling and were introduced in Season 6 as Battle Pass Rewards with unlockable styles. There are currently 11 types of pets. Pets react in a different way depending on the situation of the player (e.g, Gliding, Skydiving, Knocked Down, Aiming, Eliminating, Being next to another teammates pet or opening a chest).
Music
Music are music tracks in Battle Royale that were introduced in Season 6. It can be customized and played as a background music while in Battle Royale Lobby through equipping in the Locker.
Cosmetics
Various thematic sets including Cosmetic Skins, Harvesting Tools, Emotes and Gliders were also released on Season 6 as part of the item shop components on daily rotation basis and Battle Pass rewards. Loading Screens are granted from completing Battle Pass Challenges:
Weapon and Item Releases
Season 6 introduced a lot of new items in Battle Royale ranging from weapons, items, a new vehicle, new traps and more.
6.00 Patch Notes (27th September)
Shadow Stones

Consumable typically found around corrupted areas of the map.
Using a Shadow Stone will apply 'Shadow Form' for a brief period.
While in Shadow Form:

Unable to use weapons.
Become invisible to enemies when stationary.
You become more visible and leave behind a Shadow Trail when moving.
Gain increased movement speed, jump height and fall damage immunity.
Gain a new ability, Phase, can be activated by pressing the Primary Fire button.

Phase: Propels you in the direction you are facing, and allows you to pass through objects.

The effect lasts 45 seconds but can be exited early by holding down Alt Fire button (aim down sights).
6.01 Patch Notes (3rd October)
Chiller

Common Trap.
Can be placed on floors, walls, or ceilings.
Drops in stacks of 3 in Treasure Chests, Supply Drops, Vending Machines, Supply Llamas, and floor loot.
Applies icy feet to friends or foes, causing them to slide around with low friction.
6.02 Patch Notes (10th October)
Quad Launcher

Fire up to four lobbed rockets in quick succession.
Available in Epic and Legendary variants.

80/84 base damage per rocket.
300 unit explosion radius.

Can be found in chests, Supply Drops, and Vending Machines.
6.10 Patch Notes (16th October)
Quadcrasher

Seats two players.
You build boost just by driving. Unleash that speed with the hotkey once you've filled your boost meter.
Smash through buildings while boosting.
Boost off ramps or cliffs to catch sick air.
Launch players into the air by smashing into them.
6.20 Patch Notes (24th October)
Six Shooter

Available in Uncommon, Rare and Epic variants.

34 / 36 / 38 base damage.
Shoot from the hip for faster fire rate, or trade rate of fire for precision by aiming down the sight

Uses Medium Ammo.
Can be found from floor loot, chests and Vending Machines.
6.21 Patch Notes (1st November)
Balloons

Epic rarity

Comes with 20 deployable balloons.

Allows the player to defy gravity by holding up to 6 balloons at a time.
Primary fire button to inflate a balloon, secondary fire button to let go of a balloon.

Can be found from floor loot, chests, Supply Drops, Supply Llamas, and Vending Machines.
NOTE: Don't float too high for too long, balloons only last so long at max build height.
6.22 Patch Notes (6th November)
Heavy Assault Rifle

Can be found in floor loot, chests, Vending Machines, and Supply Drops
Available in Rare, Epic and Legendary Variants

Deals 44 / 46 / 48 damage
3.75 Fire Rate
Has a magazine size of 25
6.30 Patch Notes (14th November)
Mounted Turret

Legendary Trap
Found in Floor Loot, Supply Drops, Vending Machines, and Supply Llamas
Unlimited Ammo, but will overheat if fired too often.
Can only be placed on floors.
Damage the Mounted Turret by shooting it directly or by destroying structural support.
Once placed, can be used by any player regardless of team affiliation.
6.30 Content Update (19th November)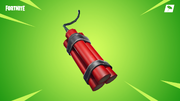 Dynamite

Uncommon rarity, found in stacks of 3.
Available from floor loot, chests, Vending Machines, Supply Llamas, and Supply Drops.
70 damage to players and 800 damage to structures.
Explosion is in the shape of a flat cylinder

1600 units in diameter and 384 units in height.

Initiating a throw will start a 5-second fuse that can't be canceled.
Throw range is shorter than standard Grenades.
6.31 Patch Notes (27th November)
New Epic and Legendary Pump Shotgun

105 / 110 maximum damage
Available from floor loot, chests, Supply Drops, and Vending Machines.
Map Changes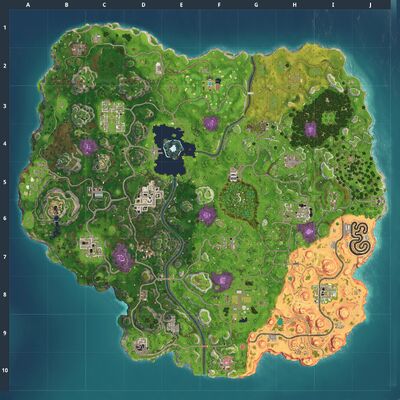 Map v6.00 (September 27th)
The house in the centre of loot lake has risen up in the air from the CUBE and has made a vortex through the lake.
New Castle near Haunted Hills.
Corn has started growing on the fields in Fatal Fields.
Four cabins have appeared in Wailing Woods, and the house in the hedge maze has been turned into a secret lab.
The seven runes the CUBE imprinted into the ground have grown larger, corrupting the land around them and spawning a new item, Shadow Stones, with up to three chests around each rune, similar to the stone heads back in Season 5.
The shack by Fatal Fields that was destroyed by the CUBE is now under reconstruction.
The Villain Lair POI and the Mansion POI have became abandoned and started to decay.
A Halloween store has appeared in Retail Row at the previously unoccupied space between McGuffin's bookstore and the unnamed camping equipment shop
September 28: There are Halloween decorations slowly appearing in many different places on the map.
September 28: The floating island has gone towards rune 7.
September 29: The CUBE has lifted up the rune and chests themselves, causing the CUBE to absorb the runes power which made it grow in the basement of the house. It also opened up small holes that act like Shockwave Grenades.
September 29: Ghost decorations have started appearing.
October 1: The CUBE absorbed enough power, placing the rune and chests back into the ground and left a beam of light. The bouncy holes still remain and the island is now on the move again.
Map v6.01 (October 4th)
Map v6.02 (October 11)
Map v6.10 (October 16)
Demolition crews have moved in and started demolishing the remains of the destroyed sporting goods shop in Tilted Towers.
A race track has appeared in the former place of the Open Soccer Stadium.
A truck transporting Quadcrashers has appeared in Salty Springs.
The CUBE absorbed rune's 6 powers and headed towards the final rune, Rune 3.
October 18: The CUBE begins to absorb Rune 3's powers.
The 6 other runes that the CUBE previously absorbed are starting to rise again.
October 19: The runes have started to float towards the main island.
October 20: The runes arrived at the main island and the CUBE begins to absorb their powers again.
The CUBE absorbed Rune 3's powers and the other 6 runes and it's seem to be heading back to Leaky Lake. The particles of the CUBE in the house are glowing. The seven runes have fallen to the ground.
The Island has begun to move back to Leaky Lake.
October 21: The CUBE has begun to draw power from the vortex in leaky, causing a light to appear above the island, presumably opening a portal.
October 22: The portal in the sky has grown significantly.
Map v6.20 (October 24)
The CUBE has now blown up the floating island above Leaky Lake, causing it to split into three fragments.
The runes are no longer glowing.
Fatal Fields was turned into a halloween theme park, complete with three haunted houses and a field maze.
A Battle Bus has crashed north from the Leaky Lake.
The former Battle Bus located north, east of Shifty Shafts has disappeared.
In Greasy Grove, there is a new truck with the Pizza Pit logo on the side.
October 26: The CUBE has started to develop cracks.
October 27: The CUBE continues to crack.
October 28: There are now cracks on each side of the CUBE.
October 29: The cracks are now more prominent and visible.
October 30: The cracks get longer.
October 31: The cracks are almost everywhere on the CUBE now.
Map v6.21 (November 1)
Greasy Grove's Durrr Burger restaurant is closed.
Strange rift noises can also be heard from the CUBE.
Floating objects have been found at Motel.
A small brick has been found floating beneath the chair at the Mansion.
A bed in the Lonely Lodge has been floating.
November 3: The outer shell of the CUBE has fallen off it, revealing a slimy inside that occasionally leaks out what appears to be goo.
The upper shell seems to be broken but without the light from the goo.
November 4: The CUBE has exploded, causing everyone to go into a white "pocket dimension." Everyone was teleported out of the dimension when a rift-butterfly touched their finger. There is now land in Leaky Lake.
In the middle of the land in Leaky Lake, there are fragments of the CUBE(as if inspired by Stonehenge).
Map v6.22 (November 6)
The corrupted areas have been overgrown with grass and flowers.
The soccer pitch in Pleasant Park was changed into an American football pitch.
A Durrr Burger truck is at Greasy Grove and is battling for money with the Uncle Pete's Pizza Pit truck.
Durrr Burger's windows have been boarded.
November 8: A parachute has appeared on top of the tallest chimney in Flush Factory.
November 10: The Durrr Burger truck and the Uncle Pete's Pizza Pit truck are at the football stadium.
Map v6.30 (November 14)
Map v6.31 (November 27)
November 27: The Durr Burger truck and the Uncle Pete's Pizza Pit truck are at Lazy Links with the Uncle Pete's Pizza Pit truck in the lead despite going in the wrong way when it comes to race to Tomato Temple.
November 28: The blizzard cloud turns out to be an iceberg, later known as Polar Peak.
November 29: A castle can first be seen in the iceberg.
November 30: The trucks are now at Tomato Temple with the Uncle Pete's Pizza Pit truck wining the race, ahead of the Durr Burger truck.
The lights on the iceberg castle are now on.
December 1: The food trucks are now at the Dusty Diner near Dusty Divot.
December 4: It's starting to snow on the spawn island.
The food trucks are now at Retail Row.