Fire Emblem Warriors: Three Hopes - The Loop
Play Sound
Season 5 of Battle Royale ran from July 12 to September 26, 2018. The "Worlds Collide" theme was unveiled on the final teaser. The theme for Season 5 is a mixture of real-world era crossover after the rifts spawned (from the previous Season) took out different objects from the island and summoned a few real life objects that were virtually converted to play a role in Battle Royale. The Durrr Burger actually appeared in real life in the California Desert, hence the, "Worlds Collide Theme."
It also features a new map desert biome, brand new named locations such as Lazy Links, Paradise Palms and other POIs (points of interests). A new type of 4-player vehicle was also released on the initial patch called the ATK. Toys feature that can be used in game to perform an action and interact with a golf ball, beach ball and basketball were also added as part of Battle Pass rewards.
Starting in Season 5, progressive challenges will no longer be restricted to a single season and can now be completed at personal pace. Season 5 was set to end on the 25th of September but was extended until the 27th. During the final weekend, 400% Bonus XP were activated to all players.
Starting July 9th, Epic Games release a daily series of teasers that hints about the upcoming theme of the season. "Worlds Collide" theme was been revealed on the final teaser pre-season.
Battle Pass
The Battle Pass for Season 5 was available for purchase for

950 V-Bucks. Free Pass players are given one daily challenge in Season 5. Battle Pass owners are given an additional daily challenge that can stack up to two, as well as special Weekly challenges. Upon purchase of Battle Pass, Tier 1 sets of rewards including Drift Outfit, Huntress Outfit, Battle Pass Challenges,
50% Personal XP Boost and
10% Combo XP Boost are instantly unlocked.
Toys
Toys were added to Battle Royale and can be equipped through the locker emote slots. It can be used in-game to perform an action such as shooting a Basketball, tossing a Beach Ball and swinging the equipped pickaxe to hit a Golf Ball with the toy props being able to spawn in-game. Toys can be obtained as Battle Pass rewards and comes in Rare and Epic rarity.
Weapon and Item Releases
Season 5 introduced a lot of new items in Battle Royale ranging from weapons, limited-time elements, utilities and a new vehicle. Aside from new releases, an item was also reintroduced as Guided Missile returned in 5.10 Content Update from the vault.
Limited Time Modes
Brand new Limited Time Modes (LTM) were released in Season 5.
Cosmetics
Various thematic sets including Cosmetic Skins, Harvesting Tools, Emotes and Gliders were also released on Season 5 as part of the item shop components on daily rotation basis and Battle Pass rewards. Loading Screens are granted from completing Battle Pass Challenges:
Map Changes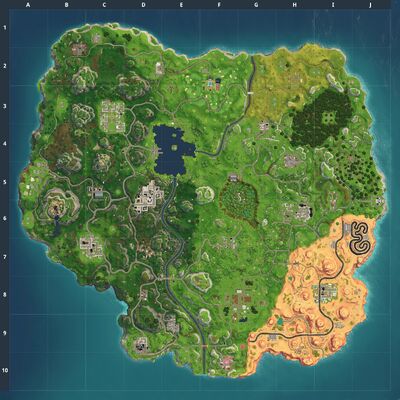 Map has been updated with a desert biome, new major locations such as Paradise Palms, Lazy Links and few unnamed POIs. New areas took place on the previous mysterious artifacts that spawned in Season 4. Rifts that are map objects that allow players to teleport in an adjacent aerial space while skydiving were scattered throughout the map.
Map v5.0 (July 12th)

Map v5.10 (July 24th)
Risky Reels' drive-in section has been lined up with cars. Flipped cars and destroyed houses' roofs were fixed.
A tombstone was added near Paradise Palms to pay homage to the "greatest rescue mission in Fortnite[1]".
Dance platforms and disco ball on the Loot Lake warehouse were removed.
A vehicle ramp was added between Loot Lake and Lazy Links.
Trucks have appeared between Salty Springs and Dusty Divot.
Clay Pigeons, Birthday Cakes and decorative balloons were added throughout the map.
Map v5.20 (August 7th)
The truck has moved to the western side of Dusty Divot.
The rift in the sky has shrunk a bit. Parts of it are less bright and one of the trails is barely visible.
Map v5.21 (August 15th)
The crack in the sky continues to shrink.
A rift reappeared on the former area of spinning tomato head at Tomato Town.
The rift disappeared bringing back the tomato head but has shrunken and turned into stone.
Map v5.30 (August 23rd)
The screen at Risky Reels has been fixed and now displays the winning entry of the Fortnite Blockbuster Contest, "Prepare For Collision". Posters of the movie can be found in the area and the marquee board displays the title of the movie.
The crack in the sky shrinks significantly, and turns into a dark shade of purple, causing lightning strikes[2].
The trucks have moved to the northwestern side of Dusty Divot.
Construction of the new building in Tilted Towers has resumed.
The motel sign has reappeared, but seems damaged.
Daily Oddities
August 24th: Lightning strikes hit the H9, southeast part of the map destroying each cacti on a formation within an interval of time. Lightning are getting stronger and bigger over time.
The rift put out its final lightning strike, making that one its longest. when it stopped, a mysterious purple cube appeared and the rift shrunk one last time and finally disappeared. It displays runes and unknown symbols. It has also started to roll and moving on a single tile direction with the interval of 1 hour and 43, minutes per movement, sometimes shorter intervals.
August 26th: The CUBE made 11 tile movements from H8 going north then 3 tile movements going west G8.
August 27th: The CUBE made 7 tile movements from G8 going north reaching G7, 4 tile movements going back to G8 then 4 tile movements heading west.
August 28th: The CUBE made 10 tile movements from G8 going west reaching F8 and has stopped moving on an elevated ground. It has also been surrounded with a low-gravity magnetic dome that provides an effect similar to Hop Rocks and causing the bottom of the CUBE to glow.
August 29th: The CUBE has started to move again and made 8 tile movements from the elevated ground climbing to the hill. It also left a burning imprinted rune into the ground which became the center of the magnetic dome.
August 30th: The CUBE made 21 tile movements from the hill then going down and continues to move heading west reaching E8 going D8.
August 31st: The CUBE made 28 tile movements from D8 to C7 approaching Greasy Grove.
September 1st: The CUBE made 9 tile movements on C7 then stopped and was surrounded with low-gravity magnetic dome.
September 2nd: The CUBE has started to move again from C7 and made 17 tile movements, has started to head north passing C6 and ended up on D6. It also left the second burning imprinted rune into the ground which became the center of the magnetic dome.
September 3rd: The CUBE made 25 tile movements from D6 going north east to E6.
September 4th: The CUBE made 21 tile movements from E6 heading east reaching F6 then stopped and was surrounded with low-gravity magnetic dome.
September 5th: The CUBE has started to move again from F6 and made 9 tile movements on G6, outer rim of Dusty Divot. It also left the third imprinted rune into the ground which became the center of the magnetic dome.
Map v5.40 (September 6th)
The remains of Dusty Depot have been changed, one part is now a tiny museum telling the story of the Meteor that crashed down, destroying some of Dusty Depot and turned it into Dusty Divot.

The other factories were converted into a mini museum and a dining place called "Dusty Diner".

The building in Tilted Towers that the meteor destroyed is now fully constructed and is now an outdoor store with a thrift shop in the basement.
Daily Oddities
Map v5.41 (September 18th)
September 18th: The CUBE made movements from C5 going west crossing D5 of Tilted Towers. The CUBE also destroyed the newly built store partially.
September 19th: The CUBE made movements from D5 going north to the dock near Loot Lake factories.
The CUBE has reached the waters of Loot Lake and sunk under it. Loot Lake turned into purple and became bouncy similar to the effect and the appearance of the CUBE. The middle island also started rumbling
The CUBE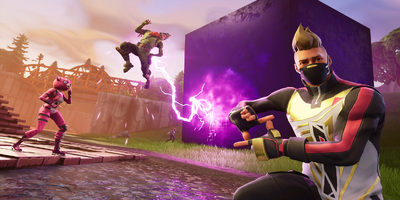 CUBE (also referred to as the Six-Sided Mystery), but more commonly referred to by the community, and officially referenced by Epic Games as Kevin is an unknown phenomenon in Season 5. It spawned on August 25th on the area where the continuous lightning strikes have taken place destroying the formation of each cactus at H9. Standing nearby the cube regenerates player's shield every 2 seconds and displays glowing runes on the border part of the screen.
The CUBE knocks back the player when touched or hit with a pickaxe, and strikes static shock when shot with a gun which causes 30 HP damage disregarding any shield points. Under certain circumstances, getting eliminated by the cube's lightning bolts or large knockback impulses will show a message in the Kill Feed that says '(Player) got too close to [rapidly flashing glyph symbols]'. Any dynamic entity including players, shopping carts and ATKs can be knocked away by touch. The cube can also destroy a map object and can kill a player if blocked while it rolls. The cube does not block fall damage if landed upon despite its bouncing properties.
References