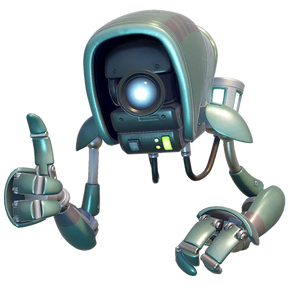 Quests provide different objectives for the player to advance to the story and gain rewards in Save the World. Completing quests award players with items and resources such as experience, resources, people, schematics, and currencies including

V-Bucks,

Gold and
Daily Coins that can be used to progress on the game. Quest Logs keeps a record off all the available quests, current event quests, side quests, daily quests, challenges and completed quests. Quests can be pinned using Pin Quests to be able to track the current active quests in game.
There are different types of primary quests; Main Quests which follows the story line of the game that requires to complete various objectives in specific missions on progressing regions; Daily Quests which are assigned every day that rewards V-Bucks and Gold. A maximum of 3 Daily Quests can be active at a time whilst 1 Daily Quest can be replaced per day; Challenges which are special and repeatable quests in a series of up to 20 Stages that increases in difficulty every time completed; Hero Quests are the hero introductory quests on the campaign; and Side Quests which are optional quests that can be pursued for extra challenge and high value rewards.
Event Quests are also available on a limited-time and seasonal basis which could be only completed on a specific span or duration of the event. Completing these Event usually rewards event exclusive and limited-edition Heroes, Defenders or Schematics and event currency that can be used on redeeming Llama Pinatas. There are also Founder's Quests which rewards Founder's Weapons that are exclusively available to players who purchased certain tiers of Founder's Packs. While doing quests, the commander or the player is assisted by a NPC (non-playable character) Ray, a female programmed robot, that aids the player to progress complete quest objectives.
Types of Quest
Primary Quests
Exclusive Quests
List of Quests
Icon
Name
Type
Event
Region
Icon
Name
Type
Event
Region
20,000 Leagues
Main Quest
Canny Valley
A Bonding Experience
Main Quest
Canny Valley
A Fridge Too Far
Event Quest
14 Days of Fortnite
A Harrowing Journey Of Drumming
Main Quest
Canny Valley
A Little Help...
Event Quest
14 Days of Fortnite
A Thousand Words
Main Quest
Canny Valley
A Watery Grave
Event Quest
Road Trip

•

Cram Session

•

Fortnitemares 2018
Are We Ready to Rock?
Main Quest
Canny Valley
Ashes to Ashes
Event Quest
Fortnitemares 2017

•

Fortnitemares 2018
Automatons of Olympus
Main Quest
Canny Valley
Band Probation
Main Quest
Canny Valley
Bandwidth Issues
Main Quest
Canny Valley
Battle Royal
Main Quest
Canny Valley
Blue Skies
Main Quest
Canny Valley
Call the Shots
Main Quest
Twine Peaks
Cannon Fodder
Main Quest
Canny Valley
Canny Crude!
Main Quest
Canny Valley
Canny Underground
Main Quest
Canny Valley
Canny Valley Defense 2
Main Quest
Canny Valley
Canny Valley Defense 3
Main Quest
Canny Valley
Canny Valley Defense 4
Main Quest
Canny Valley
Canny Valley Defense 5
Main Quest
Canny Valley
Canny Valley Defense 6
Main Quest
Canny Valley
Canny Valley Storm Shield Defense 1
Main Quest
Canny Valley
Celebrate You Now!
Main Quest
Canny Valley
Coal to the World
Event Quest
14 Days of Fortnite
Comfort Food
Main Quest
Canny Valley
Concept Art
Main Quest
Canny Valley
Cruise Control
Tutorial Quest
Stonewood
Curse the Darkness
Event Quest
Fortnitemares 2017

•

Fortnitemares 2018
Danger in the Mist
Event Quest
Road Trip

•

Cram Session

•

Fortnitemares 2018
Decoration Domination
Event Quest
14 Days of Fortnite
Dethrone
Event Quest
Fortnitemares 2017

•

Fortnitemares 2018
Different Lies
Main Quest
Canny Valley
Disintegration
Event Quest
Fortnitemares 2017

•

Fortnitemares 2018
Dungeons n' Dungeons
Event Quest
Fortnitemares 2017

•

Fortnitemares 2018
El Jefe
Main Quest
Canny Valley
Epic "Mini-Boss"
Event Quest
Fortnitemares 2018
Evacuate Immediately!
Main Quest
Canny Valley
Excalibur 2.0
Main Quest
Canny Valley
Eye Candy
Main Quest
Canny Valley
Eye in the Sky
Main Quest
Canny Valley
First Things First
Main Quest
Twine Peaks
Fool and His Gold
Main Quest
Canny Valley
For You
Event Quest
14 Days of Fortnite
Forces of Nature
Event Quest
Road Trip

•

Cram Session

•

Fortnitemares 2018
Fridge Logic
Main Quest
Canny Valley
Gravestone
Main Quest
Canny Valley
Happy Huskin' New Years
Event Quest
14 Days of Fortnite

Celebrate the New Year

Have You Tried Turning It On and Off Again?
Main Quest
Canny Valley
Hex Files
Event Quest
Fortnitemares 2017

•

Fortnitemares 2018
Home for the Holidays
Event Quest
14 Days of Fortnite
How I Wonder What You Are
Main Quest
Canny Valley
Save the World
Side Quest
Plankerton
Hёxin'
Event Quest
Fortnitemares 2017

•

Fortnitemares 2018
In Through the Out Rift
Main Quest
Canny Valley
It's a Vlad Vlad Vlad Vlad World
Event Quest
Fortnitemares 2017

•

Fortnitemares 2018
It's Showtime
Main Quest
Canny Valley
It's Time for Twine
Main Quest
Twine Peaks
Joel's Pub
Side Quest
Plankerton
Just Build
Main Quest
Canny Valley
Killer Storms
Event Quest
Road Trip
Krampage
Event Quest
14 Days of Fortnite
Hex Files
Event Quest
Fortnitemares 2017

•

Fortnitemares 2018
Loot Llamas
Main Quest
Stonewood
Lowered Expectations
Main Quest
Canny Valley
Mercerado!
Main Quest
Canny Valley
Merry X-Missions
Event Quest
14 Days of Fortnite
Midnight Oil
Main Quest
Canny Valley
Mist Monster Hunter
Side Quest
Plankerton
My Dearest Sophie
Main Quest
Canny Valley
Piece of Cake
Event Quest
Fortnite 1st Birthday Celebration
Please Hold
Main Quest
Canny Valley
Portraits of Someone Special
Side Quest
Plankerton
Power to the People
Main Quest
Canny Valley
Put It Through Its Paces
Main Quest
Twine Peaks
Ray on the Rooftop
Main Quest
Canny Valley
Ready To Rock
Main Quest
Canny Valley
Remote Control
Main Quest
Canny Valley
Retreat!
Main Quest
Canny Valley
Reverse Tinfoil Hats
Main Quest
Canny Valley
Road Trip
Main Quest
Canny Valley
Save the World
Side Quest
Plankerton
Say Watt?
Main Quest
Canny Valley
See You Later
Main Quest
Canny Valley
Set the World on Fire
Event Quest
Road Trip

•

Cram Session

•

Fortnitemares 2018
Seventeen
Main Quest
Canny Valley
Shadow Boxing
Event Quest
Fortnitemares 2017

•

Fortnitemares 2018
Signal Strength
Main Quest
Canny Valley
Smashasaurus
Main Quest
Canny Valley
Sploding Husks
Event Quest
Fortnite 1st Birthday Celebration
Staking Territory
Event Quest
Road Trip
The Horde
Staking Territory
Event Quest
Horde Bash
The Horde
Stalled Out
Main Quest
Canny Valley
Take a Bough
Event Quest
14 Days of Fortnite
Take It to the Limit
Main Quest
Twine Peaks
Thar She Tumbles
Main Quest
Canny Valley
The Big Picture
Main Quest
Canny Valley
The Bones Collector
Main Quest
Canny Valley
The Cyclone Of Your Love
Main Quest
Canny Valley
The Entertainer
Main Quest
Canny Valley
The Evil Shed
Event Quest
Fortnitemares 2017

•

Fortnitemares 2018
File:? Icon.png
The... Other Thing!
Event Quest
14 Days of Fortnite
Frostnite
Three Strikes
Main Quest
Canny Valley
Through the Rift
Main Quest
Canny Valley
Time to Blast Off
Main Quest
Canny Valley
Train in Vain
Main Quest
Canny Valley
Tree for All
Event Quest
14 Days of Fortnite
Trouble on the Horizon
Event Quest
Road Trip
The Horde
Twine Peaks Storm Shield Defense 1
Main Quest
Twine Peaks
V
Main Quest
Canny Valley
Vampire Records
Event Quest
Fortnitemares 2017

•

Fortnitemares 2018
Want Some Twine? Course Ya Do!
Main Quest
Twine Peaks
Want to Build a Hoverboard?
Stonewood
Weekly Horde Challenge (repeatable)
Event Quest
Road Trip
The Horde
What Are Names?
Main Quest
Canny Valley
When There's a Will...
Main Quest
Canny Valley
While You're Up...
Main Quest
Canny Valley
X Marks the Spot
Main Quest
Canny Valley
You Better Watch Out
Event Quest
14 Days of Fortnite
You're Not the "Mini-Boss" of Me
Event Quest
Cram Session
Changes