Raise a Floppa - The Loop
Play Sound
| | |
| --- | --- |
| | This article is about a location which appeared near Moisty Mire and later, Moisty Palms. For other uses, see Prison. |
This map/grid location appeared until Chapter 2 Season 1 and has since been updated.
Some sublocations, points and mapping might have been removed or changed. Please see Lazy Lake for the latest information about the map.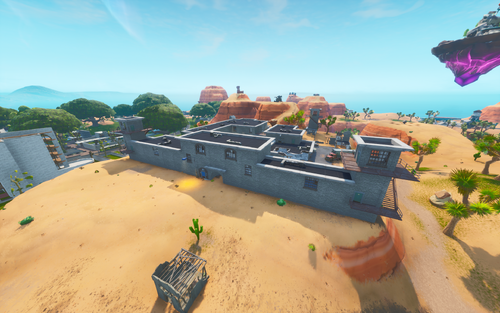 Prison was an Unnamed Landmark in Battle Royale added in Season 1, located inside the coordinate H8, east of Fatal Fields and west of Moisty Palms. It was originally removed from the map and replaced by a desert biome alongside Moisty Mire in Season 5, but reappeared via a rift beacon in week 7 of Season 10.
Points and Sublocations
Prison (POI) Top View
* Click on the map to view geographic sub-locations.
Props
Cafeteria Table
Police car
Police tape over door
Challenges
Map Changes
Prison was added to the map as an unnamed POI.
A small meteor crashed into the Prison, destroying the cafeteria and most of the cells.
An Omega poster was added into the destroyed Prison.
Week 7: The government starts filling up the crater.
Week 8: The crater is fully filled in.
The Prison was removed from the map and replaced by a desert alongside Moisty Mire.
Week 7: The Prison and the Convenience Store (POI) were added back to the map to its Season 3 state as well as the addition of Moisty Palms.
You could turn into a prop in the area as it technically was part of Moisty Palms
Although the prison has been added back, some of it is flooded with sand.
October 13th: The Prison was sucked into a black hole along with Moisty Palms.
Gallery
The Prison in the beginning of Season 4, after it was destroyed by the Meteor.
Trivia
The Prison prefab was added to Creative mode shortly before it was added back to the Battle Royale map.
There is a cell inside the prison with Police Tape over the door, possibly because there is (or was) a very dangerous prisoner inside.
The cell inside the prison with Police Tape over the door may have belonged to Omega as seen in the At Last... I Am Free loading screen.
Gallery
Battle Royale Geography
Chapter 2 Named Locations
 

Grid Coordinates

North West
North
North East
West
Central
East
South West
South
South East