Raise a Floppa - The Loop
Play Sound
This map/grid location appeared until Season 10 and has since been updated.
Some sublocations, points and mapping might have been removed or changed. Please see Moisty Palms for the latest information about the map.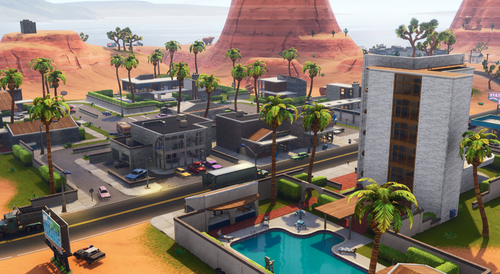 Paradise Palms (Formerly Moisty Mire and the Prison) was a named Point Of Interest in Battle Royale added in Season 5, located inside the coordinates H8 and I8, east of Fatal Fields, southeast of Salty Springs, and directly south of Retail Row. It was a tropical paradise city with palm trees, a hotel and a pool. It also included other settlements and commercial establishments covered in desert biome. It replaced Moisty Mire on the same part of the map in Season 5, which disappeared through a rift. The creation of Paradise Palms also led to the disappearance of the Crab Statue.
Paradise Palms was released in Season 5 following the initial Patch 5.0 on July 12, 2018. In the late days of Season 4, a stagecoach was found on the I8 coordinates of Moisty Mire hinting its desertification.
During several patches, the area had started to grow even more grass. This led to Moisty Palms being added although grass continued to grow in the existing desert.
Points and Sublocations
Paradise Palms Top View
* Click on the map to view geographic sub-locations.
For more details on houses and buildings, visit Paradise Palms/Buildings
Basketball Court
Other Loot Spots
Big Shots Espresso Cafe
Unnamed car shop
Architects House
Gazebo
House with garage
Large House
House with pool
Bridge House
Props
Station 99 Sign
Cars
Palm Trees
Trash Cans
ATM
Arcade Machines
Keyboard King Sign
PC방 sign
Palm Tree
"Now Entering Paradise" Sign
Futuristic Computers
Cactus
Diving Board
Map Changes
Trivia
Paradise Palms was in Battle Royale longer than Moisty Mire.
Paradise Palms is the fourth location to replace a location that was removed. It replaced Moisty Mire in Season 5 and was replaced by Moisty Palms in Season 10.
In Chapter 2, a location similar to Paradise Palms called Sweaty Sands was added to the new map.
Around Northern Paradise Palms, a grave with the Muselk logo was added in July of 2018. It was added as a joke to commemorate the user, "Chappadoodle" who Muselk accidently killed during a "Rescue Mission"
Paradise Palms was the 1st ever named POI to be combined with a different POI to create a new named POI.
Battle Royale Geography
Chapter 2 Named Locations
 

Grid Coordinates

North West
North
North East
West
Central
East
South West
South
South East