Outskirts (POI)
This map/grid location appeared until Chapter 2 Season 1 and has since been updated.
Some sublocations, points and mapping might have been removed or changed. Please see Slurpy Swamp for the latest information about the map.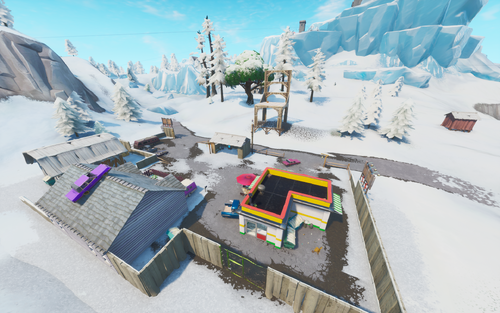 Outskirts was an Unnamed Landmark in Battle Royale added in Season 2, located inside the coordinate D8, north of Happy Hamlet and south of Shifty Shafts. It's most notable feature was a giant wooden chair, which got turned into a sled in Season 7 and then into a metal spaceship in Season 9 before turning back to a giant chair in Season 10.
Points and Sublocations
Outskirts (POI) Top View
* Click on the map to view geographic sub-locations.
Other Loot Spots
Giant Wooden Chair
House
Barn
TACOS taco stand
Former Loot Spots
Giant Wooden Sled
Giant Metal Spaceship
Challenges
Map Changes
Battle Royale Geography
Chapter 2 Named Locations
 

Grid Coordinates

North West
North
North East
West
Central
East
South West
South
South East