Fire Emblem Warriors: Three Hopes - The Loop
Play Sound
Outfit
Description
The outfit you wear into battle.
Outfits are Cosmetic items obtainable in Battle Royale and Save the World. They may be purchased with V-Bucks and earned through the Battle Pass or granted by some unique events or promotions. They are purely cosmetic and do not grant the player any competitive advantage. Outfits are usually referred to as "Skins" by the Playerbase.
Rarities include: Common, Uncommon, Rare, Epic, Legendary
Series include: Dark Series, DC Series, Gaming Legends Series, Frozen Series, Icon Series, Lava Series, Marvel Series, Shadow Series, Slurp Series, Star Wars Series
Recruit Outfit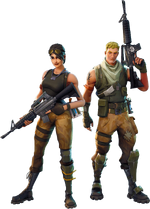 In Battle Royale and Creative modes, any new player will have eight different outfits, the outfits are known as the recruits. The player has no control over which of those characters they play as when using the default outfit, which is determined at random at the start of each play session.
The eight characters that one may play as in each session while using default option are all from the Soldier class in the Save the World mode, with four characters from either gender. The nine current male characters are Carlos, Jonesy, Hector, Mansu, Hunter, Ernie, Elias, Rick, Ray, and the nine current female characters are Banshee, Rio, Ramirez, Emmy, Wildcat, Dynamo Dancer, Erica, Amy and Rawan. The characters are all dressed in typical military tactical gear.
The previous recruit outfits are: Hawk, Headhunter, Renegade and Spitfire.
As seen in the Battle Royale launch trailer, the recruits were the first available skins in the Battle Royale mode when it was first launched in the fall of 2017, and have been available to all players ever since, although some outfits have been removed and added over the seasons. Players can unlock alternate outfits through purchasing on the Item Shop using V-Bucks or through getting it as a reward on Challenges or in Battle Passes.
China Recruit Outfits
The China version of Fortnite Battle Royale has had some exclusive recruit outfits to play as. These consist of Rio, which later became a recruit outfit to play as in normal Battle Royale, Evelynn and more. You can also play as the normal recruit outfits in this version of Battle Royale though.
Character Models
List of Outfits