Hexsylvania
Description
Shadows are deep and mysterious there.
Details
Event
Fortnitemares
Genre
Regions
Release
October 2017, October 2018
Hexsylvania was another exclusive location that was added in patch 1.8 (2017) and patch 6.20 (2018) durning the Fortnitemares Event
The location contains abandoned houses, broken castle-like structures and spooky mansions.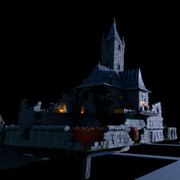 The Rewards.
Hexsylvania had some exclusive rewards for completing Quests (For the quests check: Event Quests)
However there's a couple of diffrences between the 2017 and 2018 rewards (for example: insted of getting a Grave Digger Transform key, you get to choose between a legenday Skull trooper,Shuriken master Llamaurai and Ranger BettleJess.
Missions.
Hexsylvania had new mission exclusive to this mode:
(For full descriptions check: Event Quests)