Happy Hamlet
This map/grid location appeared until Season 10 and has since been updated.
Some sublocations, points and mapping might have been removed or changed. Please see Slurpy Swamp for the latest information about the map.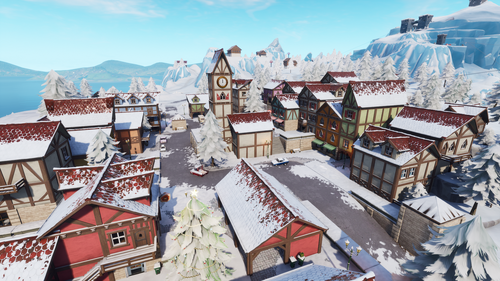 Happy Hamlet was a named Point Of Interest in Battle Royale which was added to the Map in Season 7, located inside the coordinates C9 and D9, west of Lucky Landing and south of Shifty Shafts. It was a large Scandinavian town, or hamlet, in the snow biome. It replaced the map coordinates of Flush Factory in Season 7.
Happy Hamlet had
33 Chests that had the potential to appear in matches.
Points and Sublocations
Happy Hamlet Top View
* Click on the map to view geographic sub-locations.
For more details on houses and buildings, visit Happy Hamlet/Buildings
Other Loot Spots
Map Changes
A Race track with ballers was added to the west of Happy Hamlet.
The Ballers were removed from the Race Track west of Happy Hamlet due to them being vaulted.
A trophy has appeared at Happy Hamlet that has the name of the World Cup Duos winners on it.
Some of the snow on the houses' roofs have melted.
October 13th: Happy Hamlet was sucked into the black hole.
Trivia
A lot of the stores at Retail Row can be found here like NOM'S grocery store, McGuffin's bookstore, Big Shots Espresso cafe and an Outdoor equipment store.
A POI called Misty Meadows was added to the Chapter 2 map, it is very identical to Happy Hamlet and seems to be Happy Hamlet reincarnated.
All of the buildings from Happy Hamlet can be found at Misty Meadows, but without the snow.
During the Chapter 2 Season 6 trailer, there is a POI similar to Happy Hamlet in the place of Misty Meadows. This might hint that later Happy Hamlet will return.
Battle Royale Geography
Chapter 2 Named Locations
 

Grid Coordinates

North West
North
North East
West
Central
East
South West
South
South East