is a massive multiplayer online video game released in July 2017, developed by Epic Games. The game includes three different game modes: Save the World, Battle Royale, and most recently, Creative. The main game, Fortnite Save the World, is a PvE cooperative shooter-survival mode with up to a 4-man squad to fight off husks and defend mission objectives with fortifications and defenses. Fortnite Battle Royale is the free 100-player PvP mode in Fortnite. One giant map, a battle bus, building, and destructible environments combined with intense PvP combat; the last one standing wins. Along with the arrival of Season 7, Creative mode was introduced. For the first time, players could create their own islands with provided prefabs, devices, and standard Battle Royale weapons and items- your island, your friends, your rules. Fortnite Save the World exited Early Access in late June 2020.
Battle Royale is available on Windows, PlayStation 4, PlayStation 5, Xbox One, Xbox Series X, Nintendo Switch, and most modern Android devices while Save the World is only available on Microsoft Windows, PlayStation 4, PlayStation 5, Xbox One and Xbox Series X.
As of May 2020, the game has over 350 million registered players.[1] Additionally, Fortnite has won the title for most concurrent players exceeding 10.7 million users online at the same time[2]. However, this record was beaten in April 2020 when there were over 12.3 million users online watching the Travis Scott's Astronomical Event. This record has been beaten once again in December 2020 where there were over 15.3 million concurrent viewers online watching the The Devourer Of Worlds Event.
Development and Components
Fortnite was published by North Carolina-based studio Epic Games and released in early access form on July 2017. It was first introduced as a conceptual trailer shown on-stage at the 2011 Spike Video Game Awards.[3] A few months after its initial launch, Epic Games released Fortnite: Battle Royale, a free mode using assets and gameplay elements from the main game.
Save the World
The Storm came without warning and 98% of the world's population vanished … then came the monsters. You and up to four players lead the world's remaining Heroes in a battle to save survivors and hold back the monster hordes. Explore a large, destructible world where no two games are ever the same. Build huge forts, craft exotic weapons, find loot, and level up Heroes.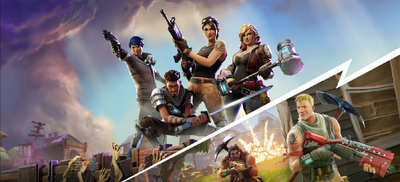 Battle Royale
Fortnite Battle Royale is a game mode where 100 players launch in a battle bus and battle against each other on a virtual island where they're free to loot for weapons and consumables they are different rarities of weapons and consumables
The game is inspired by a concept popularised by the Japanese novel Battle Royale, where the last person standing is deemed to be the winner.
Creative
Fortnite Creative is a game mode where you and up to 15 friends can create islands, play minigames, or explore other islands. In this game mode, players can customize server settings, place prebuilt structures from Battle Royale, galleries (collections of assets from different Battle Royale structures), devices (traps, timers, vehicles, etc.), and items and weapons from Battle Royale, some of which are no longer in the game.
Release Timeline
The 2008 Fortnite that people say is fake. Actually Fortnite was first announced at the 2011 Spike Video Game Awards.[4][5]
In April 2014, Fortnite's closed Alpha sign-ups began[6] and the game was revealed to be aimed towards a free-to-play model.[7]
In December 2014, the first round of Fortnite's Alpha began.[8]
In March 2015, the second round of the Alpha began.[9]
In Fall 2015, Fortnite was announced to be compatible with Mac computers, and the closed Beta phase began.[10]
Fortnite became available for Early Access on Windows, Mac, Xbox One and PlayStation 4 for those who pre-ordered the game on July 21, 2017 and on July 25, 2017 for those who did not pre-order.[11]
Battle Royale was released as free to play on September 26, 2017.[12]
Fortnite iOS was released on March 12, 2018.
STW (Save the World) was set to become free-to-play sometime in 2018, delayed again in 2019, and then finally announced the game would remain a "premium experience".[11]
Fortnite became available for Early Access for the Nintendo Switch on June 12, 2018. Shortly after the release, PS4 crossplay was disabled due to Sony's decision.
Fortnite was released on NVIDIA Shield TV, an Android-based platform, on July 12, 2018.[13] No other announcements about Android releases were made at this time.
Fortnite for Android Beta was released on August 9, 2018 to owners of Samsung mobile devices. Beta access was expanded to other mobile devices on August 1.
Fortnite: Save the World officially exited Early Access and was officially released on June 30, 2020 with update Patch 13.20.
Fortnite for iOS got officially removed from the App Store on August 13, 2020 and users who have the game downloaded are still able to play it, but this version of Fortnite is no longer supported, meaning that updates will no longer be delivered, being 13.40 the last version for iOS. After the 14.00 update, players accessing Fortnite will still be able to play the 13.40 version of Fortnite, but will not be able to access any new content or the new Battle Pass.
In all modes, players can use a pickaxe, a harvesting tool to knock down existing structures on the map to collect basic resources such as wood, brick, and metal. The gathered materials can be used to build fortification; walls, floors, and stairs, which can be also edited into various pre-defined shapes, properties, and styles.
Building
Building is one of the main gameplay elements of Fortnite. It consists of building, upgrading (only applies to Save the World), repairing basic structures such as walls, floors, stairs, and roofs, and the placement of traps, all to create a functional and defensive Fort. Creating structures requires basic building Materials, which are Wood, Stone, and Metal. These resources can be obtained through harvesting or destroying objects in both game modes.
Pickaxe and Harvesting
The Storm
Item Shop and Store
Founder's Packs
Gallery
References