Filming Studio (POI)
This map/grid location appeared until Chapter 2 Season 1 and has since been updated.
Some sublocations, points and mapping might have been removed or changed. Please see Lockie's Lighthouse (POI) for the latest information about the map.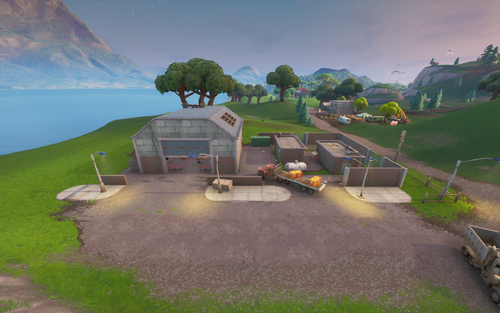 Filming Studio was an Unnamed Landmark in Battle Royale added in Season 4, located inside the coordinates C1, east of Junk Junction and northwest of Starry Suburbs. It contains a large warehouse with movie props in it, and had some nearby buildings and trucks. Nearby the POI, there was a Depot Race Track.
Points and Sub-locations
Filming Studio (POI) Top View
* Click on the map to view geographic sub-locations.
Map Changes
Filming Studio was added to the map.
December 25th: The Filming Studio was covered in snow for Christmas Day.
December 26th: The snow disappeared.
January 19th: The Filming Studio was covered in snow in the aftermath of the Ice Storm Event.
January 1st: The snow melted from The Filming Studio.
Filming Studio was sucked into a Black Hole.
Trivia
The studio was taken directly from the Warehouses (POI), but with the inside redecorated. The original depot at the warehouses was replaced in Season 4.
Battle Royale Geography
Chapter 2 Named Locations
 

Grid Coordinates

North West
North
North East
West
Central
East
South West
South
South East