This article discusses content that has been put in the Vault.
This item has been made unavailable in order to adjust the game balance. It may return in the future.
The Creepin' Cardboard was an Uncommon and Rare (Spy Games exclusive) item in Battle Royale added in the 12.00 update (Chapter 2, Season 2).
The item serves as a cover and disguise, and replenishes its charges up to a maximum of 5 through time, being extremely similar to the Sneaky Snowman. The main difference between these two is that while using a Creepin' Cardboard the player is still able to aim, shoot and use items without needing to leave the Creepin' Cardboard.
Several Creepin' Cardboards can be found scattered around the map, primarily around Ghost and Shadow bases.
This item can be useful for sneaking past an enemy and avoiding conflict.
The Creepin' Cardboard has been vaulted with the addition of the Chapter 2 Season 3 initial patch because of the new season's theme.
Stats
Spy Games Exclusive
Textures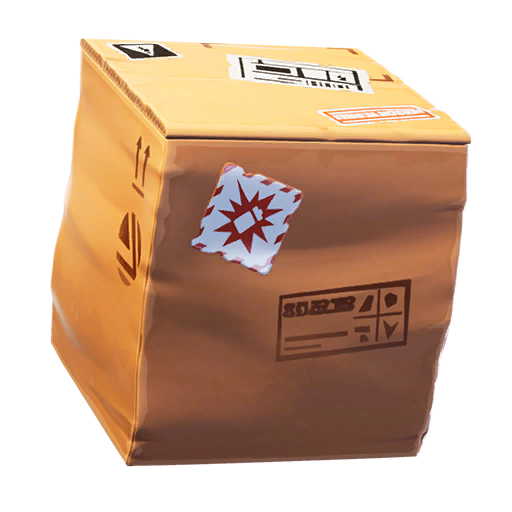 Trivia
Creepin' Cardboards are manufactured at the Box Factory.
They are a reference to the Metal Gear franchise. In the games, the main character can hide inside cardboard boxes.
Battle Royale Content
Seasonal Foraged Map Objects
Hop Rocks
(
Season 4
,
X
)  • 
Rifts
(
Season 5
,
6
,
7
,
8
,
9
,
X
,
C2 S3
,
C2 S4
)  • 
Shadow Stones
(
Season 6
,
X
)  • 
Ziplines
(
Season 7
,
8
,
9
,
X
,
C2 S1
,
C2 S2
,
C2 3
,
C2 S4
,
C2 S5
,
C2 S6
)  • 
Volcano Vents
(
Season 8
,
9
)  • 
Slipstream
(
Season 9
,
X
)  • 
Secret Passages
(
C2 S2
,
CH2 S3
,
CH2 S4
,
C2 S5
,
C2 S6
)  • 
Whirlpool
(
C2 S3
)  • 
Zero Point Crystal
(
CH2 S5
)  • 
Bounty Boards
(
CH2 S5
,
C2 S6
)