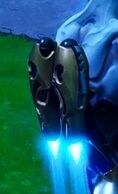 The Chitauri Jetpack was a Mythic item in Endgame ltm.
Availability
the Chitauri Jetpack can only be found in the Avengers Endgame LTM as the chitauri, as it cannot be found in default playlists, Playground or Creative.
Stats
Functions
It was like the Jetpack except it would never break.
Trivia
This item is tied to the movie Avengers: Endgame (2019,) as a collaboration once again between Marvel and Epic Games.
Battle Royale Content
Seasonal Foraged Map Objects
Hop Rocks
(
Season 4
,
X
)  • 
Rifts
(
Season 5
,
6
,
7
,
8
,
9
,
X
,
C2 S3
,
C2 S4
)  • 
Shadow Stones
(
Season 6
,
X
)  • 
Ziplines
(
Season 7
,
8
,
9
,
X
,
C2 S1
,
C2 S2
,
C2 3
,
C2 S4
,
C2 S5
,
C2 S6
)  • 
Volcano Vents
(
Season 8
,
9
)  • 
Slipstream
(
Season 9
,
X
)  • 
Secret Passages
(
C2 S2
,
CH2 S3
,
CH2 S4
,
C2 S5
,
C2 S6
)  • 
Whirlpool
(
C2 S3
)  • 
Zero Point Crystal
(
CH2 S5
)  • 
Bounty Boards
(
CH2 S5
,
C2 S6
)