Raise a Floppa - The Loop
Play Sound
Season 3 of Chapter 2, or Season 13 of Battle Royale began on June 17th, 2020 (originally April 30th, June 4th, and June 11th) and ended on August 26th. The theme of the season was water themed.
The new updated map shows more than a half of the upper side of the island being severely flooded during the first few weeks. But with new seasons, comes new mechanics, POIs, and new weapons. There are new bosses with new Mythic weapons to find in-game.
Over the course of Season 3, the water level had started to recede until Week 7 of the season.
The Battle Pass Tab now features a fortilla instead of a spy-base.
On April 29th, a group of posters were leaked in the game files labeled as teasers. These posters can be seen on a building owned by No Sweat Insurance in Lazy Lake, which all 3 posters are placed around the building multiple times. The following teasers below are the full posters that can be found in the game files:
On June 1st, Sony/PlayStation accidentally leaked the pre-cover for Season 3. (This has been done before by them every other season.) It shows the Battle Bus over the ocean and a three palm tree island in the background:
On June 15th, shortly after The Device Event, Fortnite posted a main teaser for Season 3, and will most likely post more until Season 3 However, a second teaser was seemingly accidentally sent out to creators who leaked the second teaser:
No Sweat Insurance (NSI) Poster 1 features an image of a house being lifted over a large body of water with a life-ring, remaining fence left in the water. The teaser confirmed that any houses that were insured by No Sweat Insurance were protected by the flooding.

NSI Poster 2 features an image of Meowscles waist-deep in water and wearing arm floaties and a pair of shorts. There was no new skin or style for Meowscles, however a new skin related was added, Kit.
NSI Poster 3 features an image of a shark beneath Peely, swimming on the surface of water. The teaser confirmed that sharks would be added to the game.

The leaked PlayStation pre-cover was joked around by some to be a secret hint to a Spongebob crossover, since the shape of the background island is similar to one often seen with Spongebob.
The first pair of featured images show some type of lens focused on a trident over water. The numbers 0203 are shown multiple times along each image, which represent Chapter 2 Season 3. The teaser confirmed the idea of Aquaman as a skin as well as Aquaman's Trident as a harvesting tool.
The second pair of images show the similar lens focused on what is a small image of the moon in front of an astronaut outfit. The numbers 0203 are shown consistently along the images. The teaser confirmed a new astronaut skin, Siona, and the Mini Moon as her back bling.
The third pair of featured teasers show another lens focus, now on some sort of new POI. The number set 0203 is still in the images. The teaser was confirmed to be a new named location, called The Fortilla.
The fourth pair of featured teasers show one last lens focus on a small Meowscles on the handle of what appeared to be a bike. However, this turned out to be a new outfit called Kit, a small cat controlling a robot that can turn into a vehicle with a traversal built-in emote.

Teasers 6 and 8 could be lined up together and reveal more of The Fortilla.
Battle Pass
The Battle Pass for Season 3 costs 950 V-Bucks, and is a way to earn exclusive rewards during the season by earning XP and increasing your level. The rewards included in the Battle Pass include: Outfits, Gliders, Wraps, Harvesting Tools, Back Blings, Emotes, Sprays, Contrails, Music, Loading Screens and more.
Challenges
With Chapter 2 Season 3, Weekly Challenges became available within every week of the season. The challenges, as it says, are unlocked around every week. By completing them, large amounts of XP are rewarded, and the more challenges that are completed, the more requirements can be met to unlock other styles for Battle Pass outfits. All Weekly Challenges are available until the season ends.
Similar to Chapter 2 Season 2, challenges still exist in the Battle Pass tab, changed from a spy headquarters to a personal fortilla. Most of the challenges, besides style challenges, are still available through the challenge table, labelled Map Challenges. When a challenge must be completed, the hologram on the Challenge Table will hold the information. When a location is listed to a specific location, a number will be placed at that location based on how many challenges are required to be completed there. Challenges also include unique icons, such as a chest, explosion, exclamation point, and multiple others. When areas on the map are gray or labeled as ???, it means that there are a new locations there or the old locations have changed significantly.
In addition to Weekly Challenges, other unique challenges will become available as the season progresses. Similar to last season, Aquaman is now the special skin for the season and has special challenges, called the Aquaman Challenges, to complete and unlock Aquaman. As well as the Aquaman Challenges, a set of other challenges will become available, set to unlock styles to choose for the Brella, which can be fully customized with multiple options. These challenges are available until the season ends.
Achievements
Achievements are back from Chapter 2 Season 2. Instead of being colored gold, they are colored blue and purple/violet, similar to Chapter 2 Season 1's achievements. Most of the Achievements are copied from the last two seasons, however more achievements are available to complete for the new mechanics of the season.
Cosmetics
Various thematic sets including Cosmetic Skins, Harvesting Tools, Emotes and Gliders are also to be released during Chapter 2 Season 3 as part of the item shop components on daily rotation basis and Battle Pass rewards.
Weapon and Item Releases
13.00 Patch Notes (June 17th)
Added Items
Mythic

rarity.
Available from eliminating Kit at Catty Corner
Damage:

Damage when uncharged: 102

Headshot damage when uncharged: 153

Damage fully charged: 155

Headshot damage fully charged: 232

Fire rate of 0.85
Magazine size of 5
4.3 seconds to reload
Has to charge before shooting.
Found from Chests, Floor loot and Supply Drops
Deals 80/85/89/93/98 damage uncharged

Deals 120/127/133/139/147 damage fully charged.

Magazine size of 3
Reload time of 5.5/5.3/5.0/4.8/4.5 seconds
Has to charge before shooting
Deals 13/16/17 damage.
1.7/1.4/1.3 seconds to reload.
Unvaulted
Vaulted
Retired
Item Changes
Decreased amount of ammo in a Burst AR from 30 bullets to 20 and shots fired from 3 bursts to 2.
ARs headshots are no longer a double multiplier. They now have 1.5x multiplier
Consumables found on the ground can be gathered and held onto in an inventory slot.

New Food Crates can be found in certain spots around the map. Searching the crates drops some consumables.
Upgrade Bench
Hotfix 13.00.1
13.00 Content Update (June 23rd)
Added Items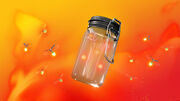 Rare

rarity.
Damage:

Direct Hit: 40
Fire damage: 10 per second while on the fire

Found near trees and campfires at night
Set structures on fire.
Fire can be put down by using Chug Splashes
13.20 Patch Notes (June 30th)
Added Items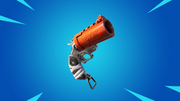 Rare

rarity.
Available in Chests, Loot Llamas, Supply Drops and Floor loot.
Damage: 60
Has 6 uses
1.5 seconds to reload
Sometime after shooting the Flare Gun in the air, the flare will explode and scan the area; Opponents within that area will be marked like the Shakedown mechanic.

Wherever the flare lands will start a fire.
Can be found at forest areas
Will heal 100 effective health when consuming, so if you have full health, you will get 100 shields on consumption.
1 in 10,000 chance to spawn
Upgrade Bench
Any Upgrade Bench can now be hit with a weapon to be taken down and held in an inventory slot. Once thrown back down, it can be used again. The Upgrade Bench now has 400 health before destroying it.
You can now sidegrade a

Common

SMG to a

Common

Rapid-Fire SMG.
Added sound effect when upgrading or sidegrading so anyone can hear you.
Item Changes
Vaulted
Hotfix
13.40 Patch Notes (August 5th)
Added Items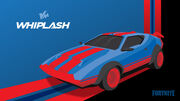 Common

rarity.
Found all over the Island, but mostly at Gas Stations.
Used to fuel cars.
Being damaged will cause it to explode, dealing 99 damage to nearby players.
Gas Pumps
Found at Gas Stations.
Can be used to fuel cars.
300-400 health.

Once health reaches 0, the Gas Pump will explode dealing 100 damage to nearby players.
Map Changes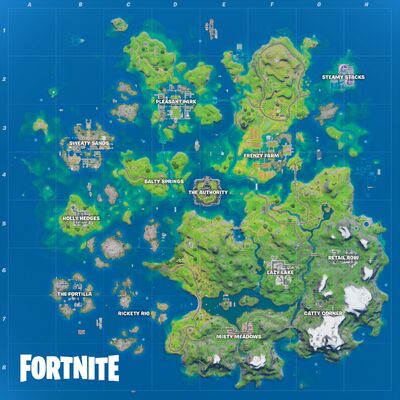 Map v13.00 (June 17th)
The large water wall around the island stopped holding, and caused the whole map to flood significantly and the storm to return to normal.
New Named Locations, some controlled by Henchmen and bosses.
Three gas stations have appeared around the map, one south of Hydro 16, one east of FN Radio, and one at Lazy Lake.

This could hint that drivable cars could be coming into the game later on in the season because they were teased in the season trailer.

Ghost House has been taken over by SHADOW.
The rival shops in Retail Row are now both connected and controlled by SHADOW.
The car and truck mech has fallen onto the ground underwater and is crawling to the island.
A mech made of bathroom equipment has appeared in the water west of the Fancy View.
Pipeman has suddenly vanished.
The hut north of the Yellow Steel Bridge has continued construction on the second floor.
Multiple floating huts, rafts, boats, and ships have been set up around the island.
Many Chests with arms and legs have appeared around the island.
Whirlpools have appeared in the water around the island, including a very large one over many of the flooded islands on the northwestern part of the island.
Loot Sharks have appeared in the water all around the island. They can be used to ride around using a Fishing Rod.
Occasionally, Marauder Pods fall from random Rifts in the sky and release Marauders that will search and attack for players.
June 23rd: A mini film set has appeared over at the pier in Sweaty Sands.
Fireflies have begun to appear around the map.
Map v13.20 (June 30th)
A small group of islands have appeared near the northwest edge of the map. A group of coral buddies have appeared and have started to create a small civilization on the island.
The bear and gnome raft south of Salty Springs suddenly vanished.
A crane has appeared near the Yellow Steel Bridge and has lifted one of the crashed trucks.

The construction below the truck crash has continued progress and has increased width. More of the pallets and chairs from the crash are being driven down to the site.

Multiple posters have been set up in Lazy Lake featuring unique vehicles.
Some helipad areas as well as the Choppas in the areas have been taken down around the island.
July 1st: The water level decreased, clearing water from areas such as Salty Springs, Steamy Stacks, most of Frenzy Farm, and parts of multiple landmarks. Some locations have also been slightly relocated and some small locations have vanished.
The gas tanks in the Catty Corner gas station have changed to a different type of gas tank.
A dance pad was set up in the filming area at Sweaty Sands.
July 11th: The water level decreased further, clearing water from areas such as Risky Reels, as well as other landmarks, and has also caused random areas to move or vanish.
July 18th: The water level decreased even further, clearing water from areas such as Pleasant Park, Weeping Woods, and Craggy Cliffs, as well as other landmarks, and has also caused random areas and landmarks to move or vanish.
July 20th: A group of Coral Buddies have arrived on the civilization island on the north west of the island with a pirate ship holding a little shark on the side of their boat.
Map v13.30 (July 21st)
Most of the stationary vehicles all around the map have suddenly vanished.
Multiple gas stations have been upgraded around the map.
A spaceship has crashed in the water nearby Craggy Cliffs.
A hatch on the wall of The Authority has opened up due to the water being lowered enough.
The construction near the Yellow Steel Bridge has continued progress and some chairs have been set up inside.
The Coral Buddies on the civilization island have moved from the wood age to the stone age.

The coral have begun to build more structures across the northwestern part of the island.

July 24th: The water level decreased further, clearing more water from areas such as the rest of Weeping Woods and Craggy Cliffs, returning the POIs to named locations.
A gas station has appeared south of Weeping Woods, next to the Purple Steel Bridge.
July 27th: The water level decreased even more, clearing much more water from many areas. Slurpy Swamp and Dirty Docks have become named locations again.
July 30th: The water level decreased further, nearing its normal level. More of Slurpy Swamp has been cleared and Sweaty Sands has returned to normal.
The construction at Sweaty Sands has been completed into a gas station.
A fishing raft has appeared in the water west of Steamy Stacks called Flopper Farm.
August 1st: The water level decreased to its normal level, revealing the last parts of map.
The very large whirlpool has created a sinkhole, revealing a lost underwater city called Coral Castle.
Map v13.40 (August 5th)
Multiple Cars have appeared around the map that can be driven.
The Coral Buddies have begun to move up another age in their civilization, featuring a built rocket ship and a nuclear chemical from a crashed pirate ship.
A small secret hideout has appeared under a building in Steamy Stacks, holding a unique object inside.
The space craft from the northeast of Craggy Cliffs has reappeared on the southwest part of the island, east of Rickety Rig, now open.
The construction near the Yellow Steel Bridge has continued progression.
August 22nd: A Rift appeared in the sky above Catty Corner.
August 24th: Thor's Hammer has appeared south of Salty Springs, making a crater.
August 26th: Six bifrost markings have appeared on a hill east of the Ghost House.
Trivia
Upon the final water drop during the season, a new Named Location appeared, but was labeled as <CARL>. This was quickly fixed in Coral Castle.
So far, This might be the shortest season of Chapter 2 only lasting around 70 days unlike Chapter 2 Season 1, lasting 128 days or 5 months. This also makes it the first season in the Chapter to end on it's scheduled date, August 27th, 2020.
This is the last season for Fortnite on iOS.

Due to Epic Games defying the App Store Monopoly, Apple has begun to block Fortnite on multiple devices, causing the creation of #FreeFortnite, to let Fortnite be available on iOS once again.

On April 14th, 2020, Epic Games announced that the Season, that was supposed to be released on April 30th, 2020, was extended to June 4th, 2020. However, new updates for Season 2, Chapter 2 are planned.

This is due to the lockdown caused by the global COVID-19 pandemic (known as coronavirus).
Epic Games also wanted players to have more time to earn the Golden Agent style for Agent Peely as well as the other outfits in the Chapter 2 Season 2 Battle Pass.

On May 28th, 2020, Epic Games decided to extend Chapter 2 Season 2 by one more week. The new start date for Season 3 is now starting on June 11th, while the live event for Season 2 is now on June 6th, 2020 at 2:05 pm Eastern Time.

This is so that they can make some tweaks to the live event before it goes live.

On June 3rd, 2020, Epic Games has announced the third extension for Season 2. Chapter 2 Season 3 is now expected to begin on June 17th, 2020. The Device event, scheduled for June 6th, is now expected to happen on June 15th at 2:05 pm ET.

The reason why the season has been extended because of recent events of racism, riots and protests in the United States.

Other game companies delayed their games as well.
Season 3 is so far the only season where the secret skin did not become a boss. (Not counting Season 11 and earlier as bosses didn't exist.)