Fire Emblem Warriors: Three Hopes - The Loop
Play Sound
Season 2 of Chapter 2, or Season 12 of Battle Royale began on February 20th, 2020 and ended on June 16th, 2020 (originally April 29th, June 3rd and June 10th). The theme of the season relates to the two major groups, Shadow and Ghost, along with the theme of gold and spies.
The map was updated to include five different spy "hideout" POI's, all of which have henchmen patrolling the area. In addition to the henchmen, each new POI includes an AI boss of the Battle Pass skins, which drop Mythic versions of weapons upon defeat.
The Battle Pass tab was remade to resemble the Save the World screens, with the interactive screen being a spy hideout.
Starting February 17th, Epic Games released a daily series of teasers that hints about the upcoming theme of the season.
Teaser 4 has a map in the top right corner with a bunker sticking out. The map appears to line up with the coast south of Dirty Docks and east of Retail Row, which means more terrain will be added to the area.
Teaser 5 was thought to confirm the return of Dynamite, as the icons are the exact same. This turned out to be actually teasing the TNTina outfit.
Teasers 6 and 7, when brightened, show an oil rig out in the water. Teaser 7 also has a map in the top left corner showing the island with the oil rig off the coast. Specifically, the map perfectly lines up with Shanty Town and the southwest parts of Slurpy Swamp to give us that the new oil rig POI will be south of Shanty Town and west of Slurpy Swamp.
Beginning daily on February 17th into February 18th, at a certain time, players when returning to the lobby would see the Fortnite News, but it would be glitched or corrupted, and it would glitch to the final teaser for that day. In this case the gold face with chaos agent's mask in front of it.
On February 18th into February 19th, players were shown a similar screen, but would instead show gold nuke saying the word "KA-BOOM" on it.
On February 19th into February 20th, players were shown the same screen, it showed a gold familiar cat called "Agent Meowscles". Interestingly, the cat's head is similar to one shown in the Feline By Design Loading Screen.
One thing to note is in teasers 4, 5 & 8 it spells MIDAS. Midas is the name of at least three members of the royal house of Phrygia. The most famous being called King Midas is popularly remembered in Greek mythology for his ability to turn everything he touched everything into gold. This came to be called the golden touch, or the Midas touch. This is why all the teasers are gold. As the theme is typically hinting us to a golden type season.
Before the season started, users on both the r/FortniteBR subreddit and the official Fortnite discord server began to be "activated" by a bot known as "The Agency".
Battle Pass
The Battle Pass for Season 2 costs 950 V-Bucks, and is a way to earn exclusive rewards during the season by earning XP and increasing your level. The rewards included in the Battle Pass include: Outfits, Gliders, Wraps, Harvesting Tools, Back Blings, Emotes, Sprays, Contrails, Music, Loading Screens and more.
The Battle Pass tab has been reworked and is now an interactive spy hideout that includes the Battle Pass itself, challenges, and upgrade vault, and more. The pass itself includes new features never before seen, such as rideable gliders and a fully customizable skin. Fitting with the theme of the season, each skin (excluding Gear Specialist Maya and Agent Peely) has a selectable style which is permanently chosen, either Shadow or Ghost.
Challenges
Challenges have been greatly changed this season. Challenges no longer have their own tab, and now fit into the Battle Pass tab, along with multiple other details, and are now available through the Challenge Table. Challenges are separated into multiple different groups: A tab for each unique set of challenges, such as Midas' Mission and Maya's Challenges, a tab for Suggested Challenges, one for Daily Challenges, and a tab listing all the challenges to be completed. When a challenge must be completed, the hologram on the Challenge Table will hold the information. When a location is listed to a specific location, a number will be placed at that location based on how many challenges are required to be completed there. Challenges also include unique icons, such as a chest, explosion, exclamation point, and multiple others.
Throughout the season, more Agent Challenges became available. The available challenges are Brutus' Briefing, TNTina's Trial, Meowscles' Mischief, Skye's Adventure, and Midas' Mission. These types of challenges are unlocked weekly and by completing them, special styles for the Battle Pass skins become available. However, only one out of the two special styles, Ghost and Shadow are available to collect for every player. The Challenges are available until the end of the season.
In addition to Agent Challenges, Gear Specialist Maya had challenges as well, called Maya's Challenges. These challenges were unlocked mostly weekly, each challenge giving the availability to change a certain design of Maya. These Challenges are available until the end of the season.
On March 25th, Oro and the Midas' Revenge set suddenly became temporarily available in the Item Shop, and along with it, the Awaken Oro Challenges. These challenges mostly consist of teamwork related challenges, and when completed, will reward two cosmetic items part of the Midas' Revenge set along with a large amount of XP. These challenges were removed on April 1st.
On April 21st, Travis Scott's Astronomical Challenges became temporarily available due to the Astronomical Event soon to begin along with a large set of Travis Scott items later being introduced in the Item Shop. The challenges consist of most tasks to complete north of Sweaty Sands. The rewards consist of a loading screen, a banner, and a spray and emote. These challenges were removed on April 26th.
On April 30th, the Location Domination Challenges became available. The challenges work in a similar way to the Stretch Goals Missions from Chapter 2 Season 1. Each challenge consists of completing a unique task at specific locations, and the reward consists of XP, where each stage grants more XP than the last stage. The challenges are available until the end of the season.
On May 26th, the Storm The Agency Challenges became available along with the Lone Shadow set. The challenges are mostly based on the agency and other spy bases, with the rewards consisting of a harvesting tool, a wrap, a glider, and XP. Due to recent season delays, the challenges will temporarily stay available until the end of the season. This is the last challenge set of Chapter 2 Season 2.
Achievements
Achievements have returned from Chapter 2 Season 1, and work largely the same. Instead of being colored blue, they are now colored gold. Many achievements from last season were remade as separate achievements, with only a simple name change, however many are new to this season.
Cosmetics
Various thematic sets including Cosmetic Skins, Harvesting Tools, Emotes, and Gliders were also released during Season 12 as part of the item shop components on a daily rotation basis and Battle Pass rewards.
Weapon and Item Releases
12.00 Patch Notes (February 20th)
Added Items
Mythic

rarity.
Deals 75 damage.
1 Firerate
Has 5 charges
1.25 Reload time
Mythic

rarity.
Available from eliminating Brutus at The Grotto
Faster spin-up
Takes longer to overheat
Has more accuracy
Rare

rarity.
Damage: 15
Has a fire rate of 15
Magazine size of 18
1.5 seconds to reload.
Rare

rarity.
Found in Chests, Floor Loot, Supply Drops, and Loot Llamas
Creates a clone that can be used to distract your opponents
Lasts for 5-10 seconds
Uncommon

rarity.
Found in Chests and in specific locations.
Works like the Sneaky Snowman

However, you still can aim and shoot with your weapon wearing it.
Unvaulted
Vaulted
Item changes
12.10 Patch Notes (March 3rd)
Added Items
Found in Floor loot, Chests, Supply Drops, and Loot Llamas
Found in stacks of 3

Rare

rarity
Deals 50 damage
Can be attached to walls and floor
Will play a short animation before exploding that allows players to shoot Proximity Mines away
An opponent damaged by a Proximity Mine will be marked like in the Shakedown mechanic.
New

Uncommon

variant
Damage: 14
Firerate of 15
Magazine size of 18
Unvaulted
12.20 Patch Notes (March 17th)
Added Items
5 seats, 4 passengers on the sides, and a pilot
Blades deal 50 damage
When health reaches 0, the Choppa will start falling to the ground until it explodes
Item changes
Vaulted
12.30 Patch Notes (March 31st)
Added Items
Legendary

rarity.
Available from Chests and Floor loot.
Damage: 50-100
Can block shots and attacks

Can see through the Umbrella when it takes damage
When pressing Primary Fire while blocking, you are able to charge a heavy attack that deals 75 damage

Can be used to dodge
Rare

rarity.
Available from Chests, Floor Loot, Supply Drops, and Loot Llamas
Can stop fall damage.
When jumping in a Crash Pad, you will be launched in the air and the Low Gravity effect will be activated.
Press the Jump button twice to throw it in the ground.
Max stack of 6
12.30 Content Update (April 3rd)
Added Items
Mythic

rarity.
Damage: 21

1.62x headshot multiplier

Firerate of 5.29
2.2 seconds to reload
Heals 3 HP per hit
Magazine size of 18
12.50 Patch Notes (April 29th)
Unvaulted
Item Changes
12.60 Patch Notes (May 20th)
Vaulted
Map Changes
Map v12.00 (February 20th)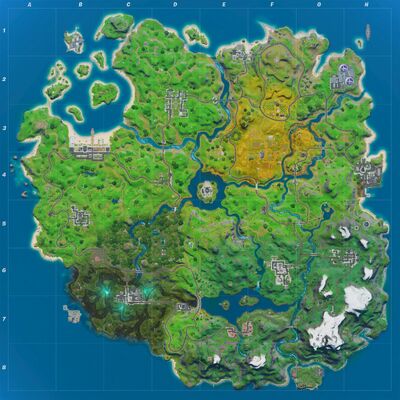 New Landmarks guarded by Shadow Henchmen.
More port-a-potties and dumpsters have appeared around the map, some have become secret passages where a player jumps in it and it takes them through a long tube to different places around the area.
Two secret bases have been built under Spawn Island. One belongs to Ghost and the other belongs to Shadow.
A delivery depot has appeared outside **REDACTED**, called Box Factory.
A Ghost base has been set up near Stumpy Ridge, called the Ghost House.
Retail Row's holiday shop has been converted into two separate ones, one called Ghost Flowers and one called Shadow Lamps. Both teams have telescopes set up to spy on each other's shops.
The chair truck from Dirty Docks has moved next to the gas station east of Frenzy Farm.
All E.G.O. Outposts have disappeared.
Multiple cars have crashed outside Sweaty Sands, presumably as a result of a police chase.
A truck from Logjam Woodworks has passed by the trucks at Stumpy Ridge.
Posters reading "Shadow wants you" and "Join Ghost" have appeared across the map.
A truck has crashed near the swamp. It appears to have carried boxes from Ship It!. A police car has also appeared, seeming to have blocked off the crash with traffic cones.
Mailboxes have appeared across the map, as well as boxes from Ship It!.
Map v12.10 (March 3rd)
Map v12.20 (March 17th)
Map v12.30 (March 31st)
Multiple objects, appearing to be some sort of hatches, have appeared all around The Agency in the water.
The meeting room in The Agency now has a standard chair where Midas' golden chair would have been in the meeting room.

The truck with Midas' golden chair and Meowscles' rope has parked at the blue house in Salty Springs. The objects have now been placed inside the building along with Ghost files appearing inside the building. The "Join Ghost" poster that originally was on the blue building was taken down and placed with the trash, suggesting whoever owns the house isn't a fan of Ghost.
The secret underground area in the cabin northwest of Weeping Woods now has a dance floor, a large amounts of balloons and honey, and a map showing 5 X's around the island. Outside the cabin, gnomes have appeared outside with Propane Tanks and other materials, most likely to break out the trapped gnome.
A truck has appeared at the Fancy View, now holding a much larger crane that has lifted the smaller crane and the red car from down the hill.
The Pipeman has continued hiking west. It seems to be heading towards Plumberton, where a large group of steel pipes are.
Five campsites have appeared around the map, all featuring a bean bag and stuffed caterpillar with faces drawn on them, and a backpack.
The Risky Reels screen temporarily turned on, showing a similar llama screen like the one in Chapter 2 Season 1. It is most likely a test for an upcoming event.
Nine unbreakable stones have appeared around the map at high places.
New Ghost files have appeared, two new ones in the Ghost House, and one in a house around the mountains southwest of the Gorgeous Gorge.
April 10th: The Risky Reels screen began to show a video hourly of an episode of Punk'd, a show now run by Quibi.
April 12th: The Risky Reels screen stopped playing.
April 14th: The Risky Reels screen has begun showing a video hourly of an episode of another show run by Quibi, The Sauce.
Map v12.40 (April 15th)
A building has been built on an island north of The Shark, featuring a solitary cell.
The gnomes have attacked and taken over the cabin northwest of Weeping Woods. However one gnome was taken down, the other gnomes have freed the trapped gnome, placing all but one bear in the cell.
The pallet truck from Logjam Woodworks and the chair truck from Dirty Docks crashed into each other east of the Yellow Steel Bridge. Most of the chairs and pallets have fallen down the cliff.
The hatches around The Agency have begun to glow purple.
The Pipeman is now holding a golden wrench.

A golden wrench has appeared in front of a pipe structure in Shanty Town.

Four large, pink bears have appeared at Risky Reels, seemingly for a cookout and to watch the episode of The Sauce.
A building at Lazy Lake has turned into a near-perfect copy of the No Sweat Insurance Building from Season 9.
No Sweat Insurance signs have been planted all around the map.
Deadpool pants have been set up as flags around the map.
A black car and a briefcase has appeared behind Pizza Pete's Food Truck .
April 17th: Multiple posters have been hung around the map, relating to music, a planet, and Sweaty Sands.
April 18th: A glowing purple star can be seen in the sky east of the island.
April 19th: Boats, cranes, and other objects have appeared on islands north of Sweaty Sands. They appear to be setting stages.
Map v12.41 (April 21st)
The stage north of Sweaty Sands has continued construction.

Multiple inflated Astro heads have appeared around land nearby the stage.

The astronomical posters hung around the map have been updated, showing the time and dates of the Astronomical event.
Mailboxes around the map have been vanishing, appearing in a house at Homely Hills.
April 23rd: The stage north of Sweaty Sands has finished construction, now featuring a ring of some sort and a beacon with a timer.
The timer had reached 0 and the Astronomical Event occurred, causing the large star to drop from the sky, revealing to be a very large Astroworld. A large Travis Scott appeared, singing while changing the map, allowing players to bounce, speed up, slow down, glow in the dark, swim underwater, and fly in the sky shortly before the AstroWorld blew up, transporting players back over Sweaty Sands through a Butterfly Rift.
Map v12.50 (April 29th)
Map v12.60 (May 20th)
Map v12.61 (May 26th)
June 16th: a cartoon-looking mushroom (that has been leaked in the files for a while) can now be spotted in Weeping Woods. This could possibly be the pet mechanic for Chapter 2 Season 3.

This could have been an accident on Epic's end, but the mushroom is adorable either way.
Trivia
Season 2 is currently the second-longest season of Fortnite: Battle Royale running from February 20th to June 17th or around 118 days. Season 1 of Chapter 2 however still remains the longest season ever running from October 15th to February 19th lasting to 128 days.
This is the first season since Season 7 to not have any Overtime Challenges.