Raise a Floppa - The Loop
Play Sound
Season 1 of Chapter 2, or Season 11 of Battle Royale began on October 15th, 2019 and ended on February 19th, 2020 (Originally December 11th, 2019 and February 5th, 2020). The theme of the season revolved around a new map and alter-egos of the battle pass characters.
The season featured significant changes in almost all elements of gameplay, such as a new map with new locations, new weapons and items, an overhaul of the game's challenge system, and much more.
The season also featured an opening Solo match as Jonesy against other players and bots upon starting up the game for the first time during the season, with "Ruckus" by Konata Small as the featured track.
Unlike every other season in the game so far, this season did not receive any teasers before release. However, a few days before The End Event happened, 3 teasers hinting at a new map were released. Teasers in the traditional sense weren't released.
Battle Pass
The Battle Pass for Season 1 is a way to earn exclusive in-game rewards by playing Battle Royale during Chapter 2 Season 1 and is available for purchase for 950 V-Bucks. These rewards include: Outfits, Gliders, Wraps, Harvesting Tools, Back Blings, Emotes, Sprays, Contrails, Music, Loading Screens and more.
All in-game items that can be unlocked stay and do not expire. By leveling up, rewards are given in each level. Some rewards are free and can be earned by anyone, and most of them are required to have the Battle Pass. A bundle that includes automatic completion of the first 25 Levels is also offered for 2800 V-Bucks and can be purchased anytime during the season. The ability to gift the Battle Pass is still available.
Challenges
Missions have stayed as the main challenges for Chapter 2 Season 1. There is one set of Prestige Missions that are more difficult but reward a larger amount of XP. Most Missions are unlocked weekly like in any other season. By completing Missions, players can earn XP, and exclusive Loading Screens.
Similar to Season 10, there is one main event challenge that is unlocked upon purchasing the Battle Pass, this season's being the Alter Ego Challenges. By completing the Alter Ego Challenges, players can earn additional styles for the Chapter 2 Season 1 Battle Pass outfits, and Sorana, the secret outfit.
On November 19th, or Patch v11.20, Daily Challenges returned to Battle Royale as another optional way to earn XP. Daily Challenges work the same way as they did before they were removed. Each day, a random challenge is given, and upon completing the challenge, 12,500 XP is rewarded. The challenges stay until completion or removal, and up to three challenges can be kept. No more challenges will be given if there are already three challenges currently set.
On December 14th, the Star Wars Challenges became available to every player, allowing them to earn a Star Wars related banner, back bling, and emote. The challenges required players to use weapons released during the time, such as a Lightsaber and a First Order Blaster Rifle.
On December 18th, more challenges came out for Winterfest. Every player would be able to complete challenges daily, and earn rewards from the challenges, including wraps, music, emotes, and more, involving both Winter and the start of 2020.
Near the ending of the season, the Chapter 2 Season 1 Overtime Challenges had become available. It was a bit different, where every few weeks, a new set of missions would appear, giving challenges that would reward a new style for one of the seven skins in the Chapter 2 Season 1 Battle Pass.
On February 5th, more event challenges came out for the Love and War event. Players would complete Love and War challenges, new challenges revealed daily, and earn rewards from challenges, including sprays, loading screens, emotes, and XP.
Battle Medals
Battle Medals are a new mechanic in Battle Royale. They help a player level up easier and are obtained by doing certain objectives as eliminating players, surviving, working with teammates, and searching chests/llamas/supply drops.
Achievements
Achievements are also a new mechanic in Battle Royale. They are earned for completing a certain challenge, such as completing Missions, doing a specific action in a certain location, or by winning several matches during Chapter 2 Season 1.
Cosmetics
Various thematic sets including Cosmetic Skins, Harvesting Tools, Emotes, and Gliders were also released on Season 11 as part of the item shop components on a daily rotation basis and Battle Pass rewards. Loading Screens are granted from completing Battle Pass Challenges. Item Shop voting also still exists as of Season 11.
Weapons and Item Releases
11.00 Patch Notes (October 15th)
Added Items
4 total seats, 3 passengers and a pilot.
800 Health.
Can shoot a missile that deals 35 damage.
Epic

rarity.
Found in Chests, Supply Drops, and Loot Llamas
Shoots Bandages

Each Bandage heals 15 health.

Have 5 charges.
Takes 2 slots on the Inventory.
Found around the Island, mostly in Named POIs.
Used to upgrade your weapons; Upgrade values:
Common

rarity.
Available in Chests, Floor Loot, and Fishing Barrels.
Used to catch fish in open water or Fishing Spots.
Common

rarity.
Found in open water.
Heals 25 health.

Can only heal up until 75 HP.
Uncommon

rarity.
Found in Fishing Spots and open water.
Heals 50 health.
Epic

rarity.
Found in Fishing Spots and open water.
Heals 50 effective health.
Mythic

rarity.
Found in Fishing Spots and open water.
Throwable.
1 in a 1.000.000 chance of finding.
Common

rarity.
Found in open water.
Throwable.
Unvaulted

Vaulted
Item Changes
11.10 Patch Notes (October 29th)
Unvaulted
Item Changes
The Pumpkin Rocket Launcher has returned
11.10 Content Update (November 5th)
Added Items
Damage: 75

Damage to structures: 150

Rare

variant.
Has 10 uses
Available from Chests, Floor Loot, Supply Llamas and Fishing Barrels.
Can be used for fast fishing
11.30 Patch Notes (December 12th)
Added Items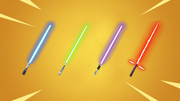 Mythic

rarity
Available from blue Lightsaber chests
Damage: 45 - 150
Can block shots and attacks from other Lightsabers

Has a limit on how much can be block
Cannot block explosions

Can be used to dodge
Damage: 30
3.6 Fire Rate

Mythic

rarity.
Available from Stormtroopers
Infinite ammo

Will overheat if fired too often
Unvaulted
11.31 Patch Notes (December 18th)
Unvaulted (only for a day):
11.31 Content Update Patch Notes (January 7th)
Vaulted
11.40 Patch Notes (January 15th)
Unvaulted
Item changes
Upgrade Bench
New Sidegrading system

Transforms weapons into another one similar to the original.

An Assault Rifle can now side-grade into a Heavy Assault Rifle.
Cost for Upgrading decreased
11.50 Patch Notes (February 5th)
Unvaulted
Map Changes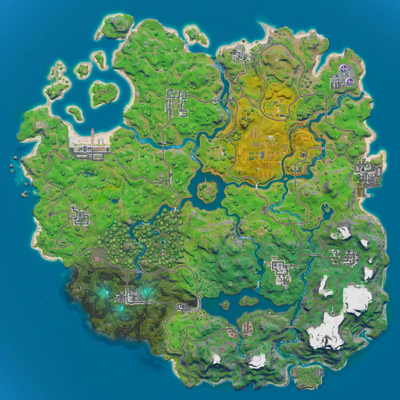 Map v11.00 (October 15th)
The car and truck mech can be found on the map, sunken in the ocean northeast of Dirty Docks. It has both of its arms attached again and is holding the pole slightly out of the water.
A hay man can be found southwest of Frenzy Farm waving, possibly referencing the stone man and stone family.
A large iron man-made of pipes can be found at F8, sitting on a mountain.
An Uncle Pete's Pizza Pit truck can be found southeast of Salty Springs, and a Durrr Burger truck can be found north of Pleasant Park.
A rock can be found at A5, referencing the rock Ariel poses in The Little Mermaid.
October 27th: A building west of Lazy Lake has set up ghost decorations in a room, hinting at the Halloween patch.
Map v11.10 (October 29th)
Multiple POIs have set up Halloween decorations.
The Hey Boo! Halloween store from Retail Row during Season 6 has returned.
Multiple pieces of furniture around the map have become haunted and now float in the air. Upon being destroyed, ghostly images of certain skins would appear quickly vanishing.
Gargoyles have been set around the map, sometimes having glowing eyes.
Soccer Zombies of the Dead Ball Set occasionally appear from random objects on the map and attack players.
The entry sign at Sweaty Sands is now complete.
Monitor screens at the Crash Site landmark begin to flicker every so often.
November 5th: All Halloween decorations and floating furniture have been removed.
The Isle Of The Storm has slowly started to uncorrupt.
Map v11.11 (November 13th)
Eye Land (POI) was added back to the map, replacing Isle Of The Storm again.
The movie screen at Risky Reels now displays a screen with a llama and colors on it. It is the same as the one on TVs in Season 3.
November 15th: An imperial ship can be seen in the sky. It is approaching the island.
Map v11.20 (November 19th)
The Hey Boo! Halloween store has become vacant once again.
A part of the Retail Row parking lot has been fenced off. A small cabin similar to the one during Christmas 2017 was added, possibly hinting at a Christmas tree being added.
Reindeer decorations have been placed inside containers at Dirty Docks.
Map v11.21 (December 4th)
Many trucks have appeared by Risky Reels. Some are carrying cranes and excavators. Cars have also appeared, blocking off the location
Many signs have appeared around the map, indicating the area in that direction.
A pile of wood has appeared next to the fenced-off parking lot in Retail Row.
December 6th: Most of the trucks have fully entered Risky Reels and have begun moving and carrying cars and vans from the parking spots.
During the day, a live test was at Risky Reels. Four invincible skins would stand and randomly emote. During the match, a voice test of four voices saying "Testing 1-2-3" would play across the map.
December 7th: The Risky Reels movie screen has begun showing a video about a Star Wars live event on December 14th.
This event will take place at 2 PM ET, and is revealed to be footage never seen before about Star Wars: The Rise of Skywalker.

Posters have appeared around the map, having the same information as the Risky Reels movie screen of Star Wars.
December 8th: Risky Reels has somehow turned back to it's Chapter 1 original look.
Risky Reels eventually returned to it's Chapter 2 Season 1 look, and more changes have been made. The cars have been fully removed, a truck has begun carrying the haystacks and chairs that were originally in the area, and the truck holding the crane has been set behind the movie screen. Other trucks, containers, and hideouts were moved to the sides. Two circles of cones have been placed around the area, an excavator in one of the circles, possibly suggesting something will be dug up there.
Map v11.30 (December 12th)
The southeast portion of the map has been covered in snow. This includes areas such as Retail Row, Lazy Lake and Misty Meadows.
Risky Reels has a timer for the Star Wars event via hologram. Most of the area has been heavily changed or removed.
Some waterfalls have been frozen over.
Snow has also appeared on the mountain where FN Radio is, east of Craggy Cliffs.
Bushes now have lights on them.
A truck carrying multiple chairs has began to exit Dirty Docks.
Huts with telescopes have appeared around the map.
At Retail Row, the Hey Boo! store has been converted into a Christmas store, and the Christmas tree has been completed.
Multiple trees have begun to grow in the fenced-off area at Retail Row.
Some areas of the map have set up Christmas decor.
December 14th: Risky Reels has been fully finished. All the pads in front of the timer have been fully built, and lights have been placed around the timer.
The Risky Reels timer reached zero, although it was being delayed by 10 minutes. The Millennium Falcon from Star Wars appeared, flying around the map, shortly after Star Destroyers appeared in the sky attacking the Falcon with multiple TIE Fighters. The Millennium Falcon destroyed the fighters, the remains dropped onto the map. After landing at Risky Reels, Geoff Keighley (playing as a holographic man with a helmet), Ben Swhartz (playing as a First Order Stormtrooper) and J.J. Abrams (playing as himself, then changes to Ramirez and the two characters that the other hosts used and changes back to himself) appeared, giving players a quiz and a vote, as well as showing an exclusive clip of Star Wars: The Rise of Skywalker (premieres in theaters on December 20, 2019), the hosts ran to the Millennium Falcon and it flew away, leaving a chest containing Lightsabers (based on the players' choice). Emperor Palpatine warned everyone about his revenge on the Rebellion.
Five TIE Fighter Crash Sites have become named landmarks across the map. First Order Stormtroopers have appeared from the crash sites, and shoot any players around the area. The locations are...
December 15th: Risky Reels was returned to its original Chapter 2 Season 1 look.
All posters about the Star Wars event have been taken down.
Map v11.31 (December 18th)
Christmas trees have been placed at multiple POI's around the map. Multiple presents surround the trees.
A group of hedges have grown southeast of Pleasant Park into the shape of an angry face called Grumpy Greens.
December 23rd: The trucks driving to POI's around the map have made it to their destinations, setting up trees in all the named locations.
December 24th: More of the map has been covered in snow.
December 25th: All of the map has been fully covered in snow.
A gigantic frozen chair has appeared north of Pleasant Park, most likely referencing the wooden chair at the POI Outskirts from Chapter 1. It is an explorable landmark called Ice Throne.
Multiple cars have hastily driven in front of the eastern house of Salty Springs. Multiple Sneaky Snowmen have broken into and invaded the house.
An ice type building has appeared north of The Orchard.
A second ice igloo has appeared north of Weeping Woods and east of Holly Hedges.
Three gingerbread have appeared at the Fancy View, in the house with the crushed red car down the hill. They stand where the people stood that watched the red car fall in Ferris Bueller's Day Off.
All of the gingerbread men and presents in The Workshop have interestingly vanished.
All of the bear and doll toys have gathered around the crashed truck near The Workshop.
The Pipeman now has candy cane glasses on its head.
December 26th: The island occasionally has blizzards.
December 31st: A disco ball would appear every hour in the sky, and slowly lower with a countdown from 10. Fireworks would shoot in the sky while every player would dance for a limited time. The disco ball would eventually blow up, letting a firework into the sky that appeared to blow into an image of a llama and the number 2020.
January 1st: The 2020 New Year's Event stopped shortly after the New Year began.
Map v11.31 Content Update (January 7th)
Map v11.40 (January 15th)
Shiver Inn (POI) was removed. 2 chests can be found at its former location.
An inflatable Fishstick head has appeared in the passenger seat of the Cap'N Carp Delivery Truck.
A new house is being constructed on an island near Misty Meadows.
The humanoid teddies have disappeared, as has the crashed truck.
The Christmas Shop in Retail Row has closed down. All of the structures and items in the fenced-off area nearby have been removed.
The chair truck from Dirty Docks has made its way up the road. The Ice Factory has also been reverted.
January 30th: A red house nearby Sweaty Sands has had all of its furniture removed from the inside of the house. Some walls and floors have been broken down.
Map v11.50 (February 5th)
A mysterious screen has appeared on the Spawn Island. Currently, the screen is displaying a glitched visual.