Fire Emblem Warriors: Three Hopes - The Loop
Play Sound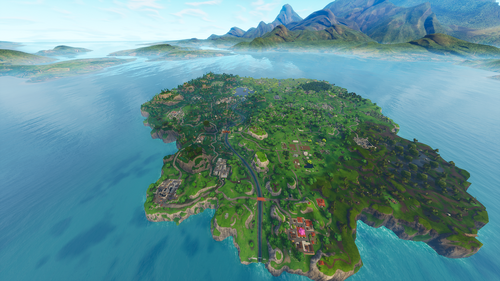 Chapter 1 was the first chapter of Fortnite and had a massive story, and over the course of the Chapter, new cosmetics, vehicles and locations were added. Chapter 1 consisted of 10 whole seasons with lots of new things added as well as many things getting removed.
Chapter 1 Fortnite Map Top View
* Click on the map to view geographic sub-locations.
The Storyline
Seasons
Season 1 (Finished: September 26th, 2017 - December 13th, 2017)
Season 2 (Finished: December 14th, 2017 - February 21st, 2018)
Season 3 (Finished: February 22nd, 2018 - April 30th, 2018)
Season 4 (Finished: May 1st, 2018 - July 11th, 2018)
Season 5 (Finished: July 12th, 2018 - September 26th, 2018)
Season 6 (Finished: September 27th, 2018 - December 5th, 2018)
Season 7 (Finished: December 6th, 2018 - February 27th, 2019)
Season 8 (Finished: February 28th, 2019 - May 8th, 2019)
Season 9 (Finished: May 9th, 2019 - July 31st, 2019)
Season X (Finished: August 1st, 2019 - October 13th, 2019)
Chapter 1 Named Locations and Landmarks
The Block when it first appeared during Season 7
Battle Royale Geography
Chapter 2 Named Locations
 

Grid Coordinates

North West
North
North East
West
Central
East
South West
South
South East