Brutus' Basin (POI)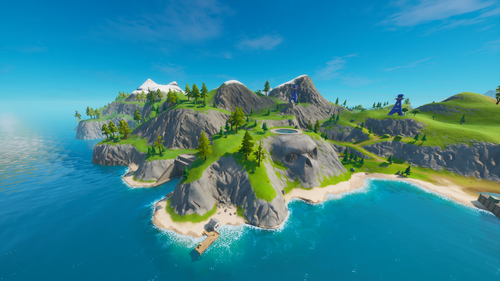 Brutus' Basin is a Landmark in Battle Royale which was added to the Map in Chapter 2 Season 3, located inside the coordinate H5, directly in between Dirty Docks and Retail Row. It is the flooded version of The Grotto.
Points and Sublocations
Brutus' Basin (POI) Top View
* Click on the map to view geographic sub-locations.
Map Changes
The Grotto has completely flooded and is currently inaccessible. The location is now a landmark and has been renamed to Brutus' Basin. The gate is shut and the watchtower is also missing.
The Shadow and Ghost Henchmen has set up a camp nearby Brutus' Basin.
Trivia
Brutus' Basin is the only location that did not return, even after the last water drain.
There was a glitch to enter in with Wolverine's Claws.
Brutus' Basin and Sharky Shell are the last landmarks representing Chapter 2 Season 2. Although it is no longer possible to enter into grotto for Brutus' Basin.
Gallery
Battle Royale Geography
Chapter 2 Named Locations
 

Grid Coordinates

North West
North
North East
West
Central
East
South West
South
South East