Blockbuster
Description
Ray has gone missing and no one knows where she is. With the help of Spitfire and Lok, investigate the comet and gear up to recruit a team of superheroes. Find Ray and bring her back home!
Details
Genre
Save the World Event
Release
May 1, 2018
Blockbuster was a Save the World Event introduced in Patch 4.0. The event featured a quest line delivered in three parts, two new monster types, and the Shadow Ops Heroes and Military Weapons sets.
Tickets and Llamas
Players earn
Blockbuster Tickets while playing during the Blockbuster event. They are used to purchase Blockbuster Llamas at the price of 500 tickets per Llama.
| Image | Name | Cost | Caption |
| --- | --- | --- | --- |
| | Blockbuster Llama | 500 | "Guarantees at least one Epic or better limited time Military Weapon or Hero." |
Chrome Husky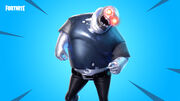 The Blockbuster event saw the debut of a new Monster type: the Chrome Husky. The Chrome Husky, like a monster from a movie, is known to aggravate players by not staying dead-- it often gets knocked down and revives itself multiple times before finally being vanquished.
Super Shielder
At the end of the event, during Patch 4.5, a new and more powerful version of the Shielder monster was released, the Super Shielder. Like its less-powerful version, the Super Shielder hovers above another monster and provides them with a shield, but the Super Shielder's shield is much more resilient, and comes in the form of a wide dome that provides coverage for more than one monster.
Event Heroes
Shadow Ops Heroes
The Shadow Ops Heroes are all about putting out damage as fast as possible: Double Agent Soldiers dual wield pistols; Piercing Lotus Ninjas throw great amounts of poison shurikens before attacking with boosted spears; Shock Gunner Outlanders Phase Shift in and out of combat with rapid firing shotguns; and Demolitionist Constructors guard their trap tunnels with a mastery of explosives.
Heroes from the Event Store
Heroes from Event Quests
Military Weapons
Blockbuster's featured set of weapons, Military Weapons, are meant to feel tactical and efficient.
Weapons from Event Llamas
Weapons from the Event Store
Event Quests
Repeatable quests
These are the repeatable quests from Blockbuster event.
Quest Name
Quest Description
Quest Reward
(Repeatable)

One "Mini-Boss" at a Time

Kill an Epic Mini-Boss in a successful Mini-Boss Mission

(Repeatable)

Fortune and Glory

(Repeatable)

Mist Monster Bash

(Repeatable)

When Fire Husks Start to Burn

(Repeatable)

One with Nature Husks

(Repeatable)

Don't Be Like Water Husks

(Repeatable)

Enter the Chrome Husky
Part Two: A Hero Is Born
| Quest Name | Quest Description | Quest Reward |
| --- | --- | --- |
| Bee Gone | | |
| Sleep On It | Search the area for suitable mattresses. | |
| We Interrupt This Broadcast... | Destroy TVs and collect corrupted receivers. | |
| Ooze Control | | |
| Project Tailor | | |
| Ex-Ray | | |
| Ready-to-war | Collect Shielder Husk data. | |
| Blocked! | | |
| Sharp Dressed Plan | Deploy the suit in a combat setting, and prepare to fight. | |
| I Have No Voice and I Must Moo | | |
| Baby Daddy | | |
| Handshake | | |
| Carbon Dating | Collect a sample for carbon dating. | |
| Malevolent presence | | |
| Taste Wizard | | |
| Lie to Me | Search for lie detector parts. | |
Part Three: The Cloaked Star
| Quest Name | Quest Description | Quest Reward |
| --- | --- | --- |
| Renegade Rampage | Search for Husk battle sites. | |
| Every Film Bed, Woof! | | |
| Fallen Star | Search for The Cloaked Star | |
| Magnets! | | |
| Jack of All Trades | Look for portable toilets in Industrial Zones. | |
Part Four: The Finale
| Quest Name | Quest Description | Quest Reward |
| --- | --- | --- |
| Earthquakes! | Deploy Remote Seismographs. | |
| Look Out! | | |
| Don't Blink | | |
| Meteoric Fall | | |
| Post Credits | | |
| Independence Day | | |