Fire Emblem Warriors: Three Hopes - The Loop
Play Sound
Limited Time Modes or LTMs[1] are events in Battle Royale. LTMs feature modifications to the rules set and mechanics, such as a limited loot pool or even 50 vs. 50 combat. LTMs usually last about a week and are available as an option in the Queue menu in the Lobby when featured. Some LTMs have been featured more than once. When this occurs, the LTM is often tweaked and improved upon based on feedback from the community before being reintroduced. Other LTMs only make a brief appearance during an event or holiday such as Love Shot, Fortnitemares, and Ice Storm.
History
The first LTM was announced during the 2017 Game Awards[2] where Epic unveiled a trailer for the 50v50 LTM.[3] Epic also wanted to add a "The Floor is Lava" mode, but couldn't due to the game being more primitive and not as advanced at the time. It did eventually get added in Patch 8.20.
Since, there have been countless LTMs typically rotating about once a week.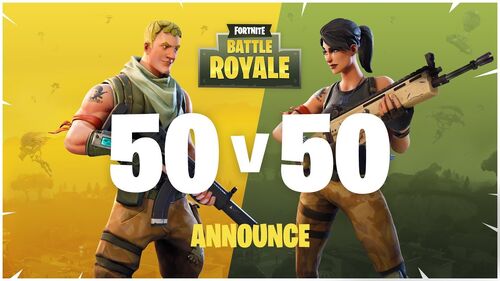 Limited Time Modes
Large Team Modes
50v50s
Specials
Team Rumble
Team Rumble: Siphon

Team Rumble: Sniper Shootout

Team Rumble: Unvaulted
Solo/Duo/Squad
Storm Chasers: Surfin'

Use with Care

Loadout Swap

Power Up

Strategic Structures

Leave None Behind

Rumble

Operation: Knockout

Horde Rush

Classic Loot
Creative LTMs
Downtown Drop

Beach Assault

Prop Hunt

Skystation Showdown

Junkyard Juke

World Run

Knock Town

Zone Wars (Solo FFA and Party FFA)

Gun Fright

Search and Destroy (Cove, Factory, Streets)

Prison Breakout

Containment

Millionaire Tycoon

Bios Zone Wars Trio 1.0 - Custom Teams

The Pit
Crossover LTMs
Downtown Drop

Marvel Showdown

The Devourer Of Worlds
Live Event LTMs
The Devourer Of Worlds
Zero Crisis Finale
References
Gamemodes
Creative LTMs
Downtown Drop
 • 
Beach Assault
 • 
Prop Hunt
 • 
Skystation Showdown
 • 
Junkyard Juke
 • 
World Run
 • 
Knock Town
 • 
Zone Wars: Desert
 • 
Zone Wars: Colosseum
 • 
Zone Wars: Downhill River
 • 
Zone Wars: Vortex
 • 
Gun Fright
 • 
Search and Destroy
 • 
Realistic Solos
 • 
Snipers Vs Runners - Doll House
 • 
Surf Wars
 • 
Money Wars
 • 
Fishy Mansion - Hide And Seek
 • 
The Pit - FFA
Event LTMs
Unreleased
Purple Reign
 • 
Chameleon
 • 
The Blues
 • 
Automatics