Fire Emblem Warriors: Three Hopes - The Loop
Play Sound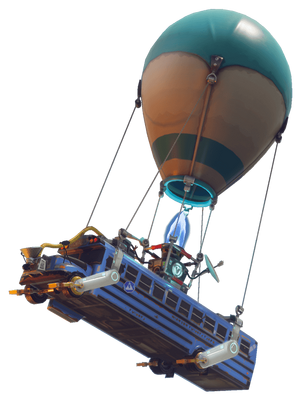 The Battle Bus is the bus in Battle Royale. It is a modified bus that flies over the map using a balloon on top of it that had a Vindertech logo on it. The bus looks like a school bus but is blue and says "Battle Bus" on the back rather than school bus, and there appears to be a party going on inside.
It is possible to thank the Battle Bus driver by pressing your emote bind, while riding the bus. On PC it's set to "B" by default.
Stages
There are 3 stages of the game where the battle bus are involved that appear underneath the minimap along with a timer
This symbol means that the game is still on the Spawn Island, if there is no countdown it means that it is waiting for players. Once there is enough players a ten second countdown will start.
This symbol means that the the game has started, all players are in the battle bus cannot jump until the bus has reached the island and the countdown is until players can jump.
This symbol means that the bus is over land and players can jump and deploy their Glider. If anyone is left on the bus when the timer reaches zero, they will be forced off to jump. If a player is AFK, then they will drop down at the end of the flyover and be waiting there for very easy eliminations.
Visuals
On Patch 5.10,

9.40 Content Update

and Patch 14.20. The Battle Bus was decorated with balloons and banner props to celebrate Fortnite's first, second and third Birthday.
On Patch 7.10, The Battle Bus was decorated like it was in Season 2.
In Chapter 2, Season 2, Deadpool painted the Bus in his style until Chapter 2, Season 3 begun.
On Fortnite's 3rd Birthday Celebration, the Battle Bus changed to celebrate.
On Version 14.30, Tony Stark rebuilt the Battle Bus to make it more powerful. He was preparing it for a battle with Galactus, during which, he revealed that he made it into a bomb and added lasers.
Changes
Patch 5.10 (July 24, 2018)
The Battle Bus and Supply Drops have been decorated to celebrate #Fortnite1st.
Bug Fix

Players now face the correct direction when jumping from the Battle Bus.
Trivia
The Battle Bus was most likely created by Vindertech as there were multiple Vindertech logos on it.
In chapter 1, multiple crashed Battle Buses could be found across the map for each Halloween events where the Battle Bus crashes.
During The End Event when the map was getting sucked into a Black Hole, the Battle Bus could be seen flying into it. The horn noise could also be heard.
Gallery