Roblox: DeepWoken - The Loop
Play Sound

This page is currently in Work In Progress.
Some content on this page may be missing, uncomplete or unfinished. Help us by filling out the missing parts & other pages.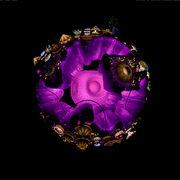 AstroWorld was a dystopian dwarf planet that was seen in the sky coming closer and closer to the island in Chapter 2 Season 2.
Appearences
April 18th:
A purple star can be seen in the sky.
April 27th:
The star has gotten closer and is much more clearer. Music can be heard from the star.
AstroWorld has made it to Apollo. A purple comet-looking thing came out of it's core, summoning a giant Travis Scott, starting the event. The concert ended with AstroWorld's explosion. The rift butterfly would take everyone back to the island, ending the event.
AstroWorld made a return at the end of the event as a little easter-egg.
Gallery
Trivia