Fire Emblem Warriors: Three Hopes - The Loop
Play Sound
Sublocations
Map Changes
A4 was added to the edge of the map. It initially contained a single White House.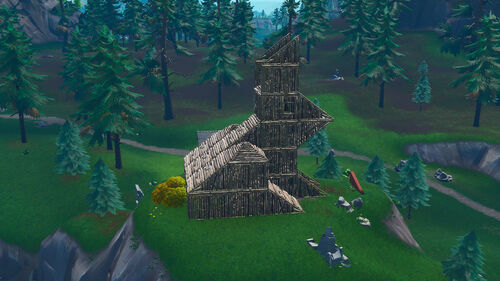 December 25th: A4 was covered in snow for Christmas Day.
December 26th: A4 was no longer in snow.
January 19th: A4 was covered in snow in the aftermath of the Ice Storm Event.
February 1st: The snow melted from A4.
A wooden rabbit was added to A4.
The white house was taken over by Pizza Pit fanatics.
October 13: A4 was sucked into a black hole.
December 12th: A4 has been covered in snow.
The red car inside the mansion on the Fancy View has crashed through the garage wall, and has fallen down the cliff.
December 18th: Three gingerbread men have appeared, standing in the mansion garage, looking down at the crashed car.
January 15th: The gingerbread men have vanished.
The snow also vanished.
A crate, similar to ones guarded by henchmen has appeared in an storage room in Fancy View, increasing the number of chests inside the house from 2 to 3.
The normal chest in the bedroom has also been relocated to be in the same storage room as the crate.
The red car that has crashed down the cliff has been lifted up by a crane held on the edge by multiple pallets.
March 17th: The crane has fallen down with the car, leaving only a few pallets on the cliff.
March 31st: The crane that has fallen down the cliff carrying the red car has been lifted up, by yet a bigger crane.
A4 was flooded.
The henchman chest was removed.
A4 was no longer flooded.
Battle Royale Geography
Chapter 2 Named Locations
 

Grid Coordinates

North West
North
North East
West
Central
East
South West
South
South East